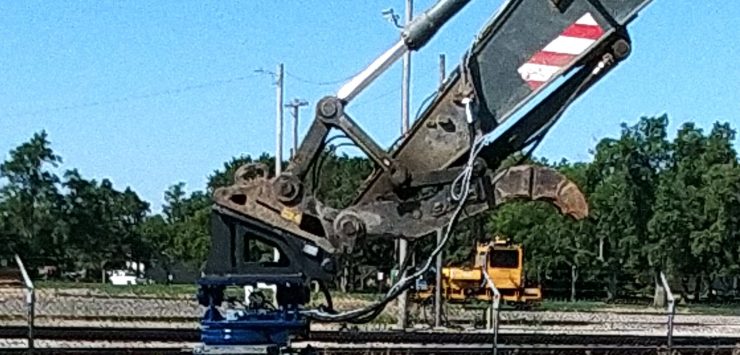 New equipment will make bridge building safer, save money in
Certification costs
The Dickinson County Road and Bridge Department has a new piece of equipment that will drastically shorten the time needed to drive steel posts into bedrock, making the bridge building process safer for employees and eliminating the astronomical cost associated with certifying crane operators.
In late June, the department received a new Hercules Vibratory Pile Driver, a piece of equipment that attaches to the excavator. "Piling" is the most common way to construct a deep foundation for a bridge. "It clamps onto the pile (steel post) and using 50 tons of driving force, it vibrates the pile into the ground," explained Billy Hemmy, Road and Bridge Department fleet manager. "It will cut the pile driving time in half, at least."
Dickinson County Road and Bridge Supervisor Martin Tannahill said acquiring the vibrating pile driver helps ensure the county can remain in the bridge building business.