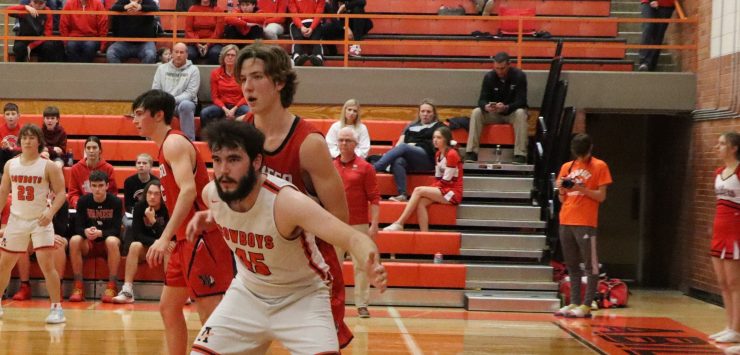 pictured is Cameron Vinduska, picture courtesy of Brad Anderson
Wamego 42  Abilene Cowgirls 17
Abilene – The #3 Wamego Lady Red Raiders pulled away for their 8th victory of the season Tuesday night.  The Cowgirls kept the game close in the first half but their offensive struggles were too much to overcome on the night.
Wamego led 9-2 at the end of the 1st quarter and 19-8 at halftime.  The Lady Red Raiders pulled away in the 2nd half.  They led 32-11 after three quarters and led by as many as 28 in the final quarter.  Wamego improved to 8-0, 4-0 with the win and were led by 5'6" Freshman, Lexi Hecht, who finished with a game-high 15 points.
Abilene fell to 1-7, 1-3 with the loss.  The Cowgirls were led by Junior, Eden Bathurst, who finished with a team-high 5 points.  She was the Nex-Tech Wireless Player of the Game.
Abilene 52  Wamego 43
Abilene – It may have been too early in the season to call Abilene's game with #7 Wamego on Tuesday a must-win but it certainly felt that way.  The Cowboys had lost two-straight games and if they have any hopes of winning the NCKL again, the Cowboys could ill-afford to lose on their home floor to another league opponent.  Abilene lost 57-49 to Marysville on last Friday.  Wamego split the league title with the Cowboys last season and entered the game 6-1, 3-0.
Abilene used a deep rotation managed by Cowboy Assistant Coach, Tyler Bryson, to play suffocating defense throughout the game.  Abilene trailed 14-10 at the end of the first quarter and 27-24 at halftime.  In the 2nd half, the Cowboys surrendered just 16 total points.  Abilene held Wamego to 7 points in the 3rd and tied the game at 34 with a steal and a layup by Brax Fisher in the final seconds of the quarter.
In the 4th, the Cowboys opened the quarter on a 12-0 run to take a 46-36 lead with 2:12 to play in the game, on a bucket by Junior, Stocton Timbrook.  Timbrook finished with 16 points. He was the Nex-Tech Wireless Player of the Game along with Senior, Tristin Cottone, who finished with a game-high 18 points.
Abilene improved to 5-4, 3-1 on the season.  The Cowboys will travel for the first time in 2023 with a trip to Clay Center on Friday.