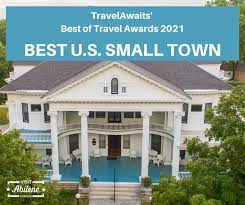 Abilene is a finalist for USA Today's 2021 Readers' Choice Best Historic Small-Town contest for the third year in a row.
"Thank you to the tourism attractions, businesses, residents, employees, volunteers, and leaders who help make Abilene the best historic small town," said Julie Roller Weeks, director, Abilene Convention and Visitors Bureau Director. "Receiving this recognition three years in a row is extra special and recognizes our efforts to market Abilene as a destination."
In 2019, Abilene ranked #8 in the final standings and advanced to #2 in the 2020 nationwide contest.
Nominees for all categories are chosen by a panel of relevant experts which include a combination of editors from USA TODAY; editors from 10Best.com; relevant expert contributors; and sources for both these media and other Gannett properties. The nomination panel for each award category is displayed on its associated contest page. All voting is digital and the 10Best Readers' Choice Award contest is accessible on the 10Best.com website.
According to 10Best Readers' Choice, the finalists have big histories and small populations – fewer than 35,000 people – making them fun and affordable ways to drive into our nation's past.
Other finalists include:
St. Augustine, Florida
Bath, Maine
Berkeley Springs, West Virginia
Cape May, New Jersey
Clarksdale, Mississippi
Clayton, New York
De Smet, South Dakota,
Ferndale, California
Granbury, Texas
Harpers Ferry, West Virginia
Jamestown, North Dakota
Leadville, Colorado
Mackinac Island, Michigan
Mineral Point, Wisconsin
Natchez, Mississippi
Natchitoches, Louisiana
Taos, New Mexico
Valparaiso, Indiana
Williamsburg, Virginia
To vote, visit AbileneKansas.org/votenow. Online voting begins Monday, September 27 at 11 am and ends Monday, October 25 at 10:59 am.
"Please encourage your friends, family, employees, customers, and visitors to vote daily," Roller Weeks said. "We need your help to win."