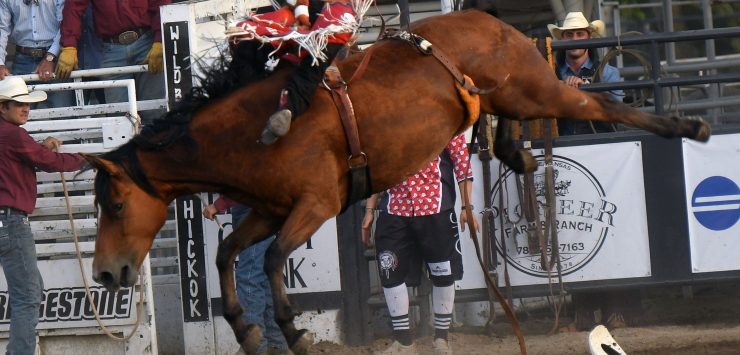 .
Fast times and high scores from the Wed., August 2 performance of the Wild Bill Hickok Rodeo, Abilene, Kansas.
1. Ean Price, Goodwell, Okla. 88.5 points on For Hell's Sake; 2. Wade Sundell, Boxholm, Iowa 85; 3. Will Pollock, Utopia, Texas 83.5; 4. Weston Pierschbacher, Kellerton, Iowa 76.
1. Kelsie Domer, Dublin, Texas 1.9 seconds; 2. Alli Masters, Leon, Iowa 2.1; 3. Tyalor Munsell, Alva, Okla. 2.3; 4. Jordan Hollabaugh, Springtown, Texas 2.6.
1. Ilyssa Riley, Hico, Texas 17.22 seconds; 2. (tie) Katie Sowada, Avon, Minn. and Timber Allenbrand, Paola, Kan. 17.48 each; 4. Jamie Olsen, Brock, Texas 17.59.
1. JB Mauney, Stephenville, Texas 90 points on Andrews Rodeo Co.'s The Kracken; 2. Braden Richardson, Jasper, Texas 88.5; 3. Hudson Williams, Midlothian, Texas 86; no other qualified rides.
The Wild Bill Hickok Rodeo presented by Holm Automotive and Freddy's Frozen Custard and Steakburgers of Salina continues August 3-4. The August 3 performance is the annual Tough Enough to Wear Pink night; funds will be raised for the Elsie Brooks Memorial Cancer Fund of Dickinson County. Following the August 4 night of rodeo, the Kyle Killgore band will perform.
Rodeo tickets are $13 for adults and $7 for children ages 4-10. They can be purchased online at
WildBillHickokRodeo.com
and at the gate. For more information on the rodeo, visit the website.