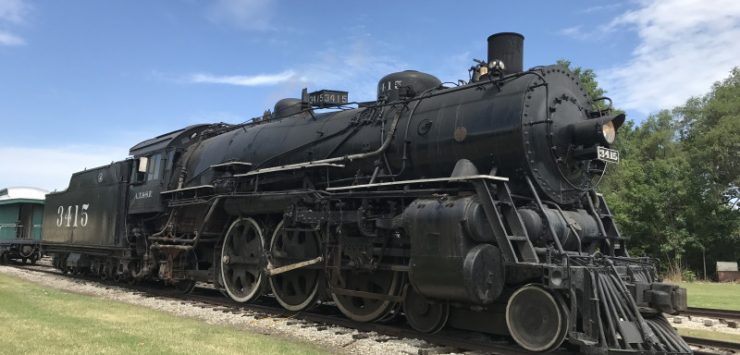 IMPORTANT SERVICE ANNOUNCEMENT: TRAINS WILL RUN THIS WEEKEND BUT WITHOUT STEAM POWER.
           Abilene and Smoky Valley Railroad passengers who planned to ride on trains powered by Santa Fe 3415, the railroad's 104 year-old steam locomotive, will have two wait for TWO WEEKS.
           The engine, which undergoes rigorous annual inspections and maintenance, was scheduled to make its first run this weekend. But an unforeseen problem that was detected yesterday during a maintenance run will keep the engine out of service until the problem is fixed.
           "The engine passed its safety inspection," said A&SV President and General Manager Ross Boelling. "But after its initial steam test, our crews and Heritage Rail Management–our consultant from Durango, Colorado–recommended that additional time was needed to make unforeseen repairs to ensure the safety our guest, passengers, and historic equipment."
In the meantime, all scheduled excursion and dinner trains will be powered by the railroad's diesel engine.
          Boelling said that persons who paid the extra $20 for the steam-powered train rides have the option of being refunded $20 and taking the diesel ride, or they can defer their steam tickets to another weekend when the engine is operable, or they can take the full $43 refund.
          "Another option is that if people want to take the diesel powered trains and donate the $20 to the 3415 Fund—the money that pays for engine maintenance and repair—they can do that as well," Boelling added.
          Boelling said that passengers who have purchased tickets can contact the railroad directly with their reservation preferences, either by email at [email protected], or by phone at 785-263-0118. It may take up to two weeks for refunds to be returned to the passenger's bank account, Boelling said.
          The change in engine power will not affect dinner trains, since A&SV does not charge a $20 premium for steam powered trains.
          A&SV crews and consultants from Heritage Rail Management have been readying the antique engine for its season debut over the past several days. The current schedule calls for the engine to be back in the A&SV lineup on Saturday, June 10.
Steven Smethers
Professor Emeritus
Kansas State University