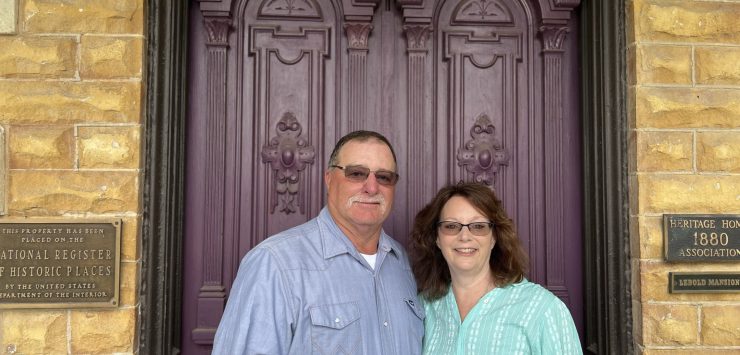 This weekend as many families venture out to decorate graves in honor of Memorial Day, one family is celebrating its heritage in a different fashion.
The great-great-grandson of Abilene founders Timothy & Eliza Hersey recently visited Abilene. And, thanks to the Abilene Convention and Visitors Bureau Tourism Assistant Sharolyn Adams, he and his new bride enjoyed a small and special wedding ceremony. Geral and Kay Hersey were wed Thursday evening with the Honorable Judge John Barker officiating at the site of Geral's grandparents' former dugout home (beneath the present-day Lebold Mansion). Adams and CVB director Julie Roller Weeks served as witnesses to the momentous occasion.
Geral and his new bride, Kay, reside in Washington State and traveled to Abilene as part of their vacation. While in town, they made several stops, including a stay at Abilene's Victorian Inn Bed & Breakfast and a visit to the Eisenhower Presidential Library and Museum.
"We're honored they chose Abilene for their special ceremony," Roller Weeks said. "The CVB is committed to assisting visitors to our five-star community. Thank you to everyone who helped make this a special day for the Herseys."
Fun fact: Eliza Hersey receives credit for giving Abilene its name from the book of Luke 3:1 in the Bible, where the name Abilene appeared, loosely meaning "city of the plains."