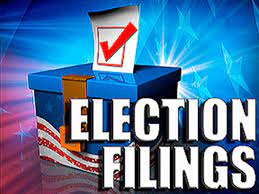 The race for the District 1 Dickinson County Commission race is heating up with a third candidate filing for office.
Annabelle Eaton of Enterprise filed for the open position of District 1 County Commissioner on Wednesday, March 9. She is running as a Republican. Eaton will join challenger Ralph DeZago of Herington and Incumbent Ron Roller of Woodbine on the ballot. DeZago and Roller also are Republicans.
The commission position is a four-year term.
In other candidate filings to date, Republican Roger Lietz of Herington has filed for Lyon Township clerk; and Republican John C. Nachtman of Abilene has filed for the Abilene Ward 2 Precinct Committeeman opening.
A number of positions are open in Dickinson County, including unexpired terms for the county clerk and register of deeds, all township clerks, precinct committeemen and women and city leadership positions in Chapman, Herington and Woodbine.
The filing deadline for all offices is noon on June 1. Also, June 1 is the last day for voters to change party affiliation before the primary.