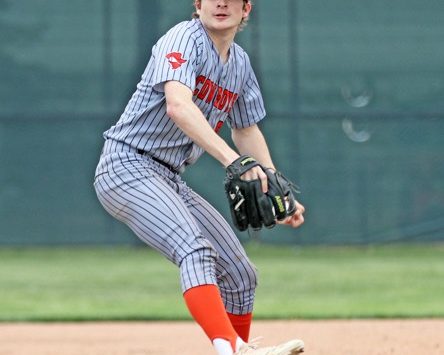 Game 1  Clay Center 12  Abilene 10
The Abilene Cowboys entered Friday night's double-header at Clay Center with an opportunity to play for the NCKL title.  Abilene's baseball program started in 2000 and the Cowboys have only won the league one time and that was in 2017.  A championship would not be easy though, Abilene would have to go through a Tiger team that entered the game 13-3, 7-1.  Clay Center Head Coach, Andy Bent has helped build the Tigers into one of the NCKL's best programs.
The first game was a slug-fest between the two rivals.  Clay Center dealt Abilene the decisive blow in the bottom of the 6th.  The Tigers scored 5 runs in the inning and got a grand slam from Freshman, Carter Long.  They built a 12-9 lead that the Cowboys would not be able to overcome.  Abilene did make it interesting in the top of the 7th.  Senior, Michael McClanahan got a one out walk and later scored on a R.B.I. single by Senior, Robbie Keener.  The Cowboys would load the bases but were unable to score any more runs.  Keener had a huge game, he finished 3-4, with a double, 3-run home-run, 3 runs scored and 5 R.B.I.s.  His 3-run shot over the fence in left field helped Abilene build a 6-3 lead in the top of the 3rd.
The Cowboys got another homerun in the top of the 6th from Freshman, Stocton Timbrook. He hit the ball, like Keener, over the wall in left field. He helped give Abilene a 9-7 lead at the time.
Game 2  Clay Center 5  Abilene 4
The Clay Center Tigers overcame a 4-1 deficit in the bottom of the 7th to get a 1 run victory over Abilene.  Clay Center with the sweep won the NCKL outright.  The combination of Freshman, Kyson Becker and his brother, Junior, Kaleb Becker held the Tigers to just 1 run through the first 6 innings.
The Cowboys got on the board first in the top of the 6th with a 2-run homerun from Junior, Carter Taplin.  Freshman, Zach Miller 2 R.B.I. double increased Abilene's lead to 4-1 as the teams headed to the bottom of the 7th.
Abilene fell to 10-10, 7-3 with loss, while Clay Center finished the regular season 15-3, 9-1.  Abilene will find out what regional they will be going to on Saturday.  AM 1560 KABI will broadcast all Regional games.