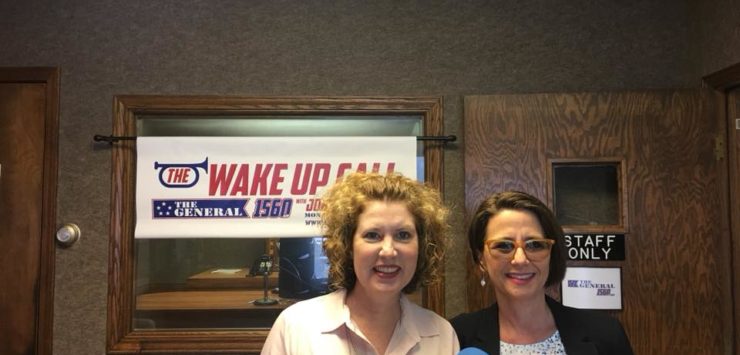 Director of the Eisenhower Presidential Library Dawn Hammatt and Executive Director of the Eisenhower Foundation Meredith Sleichter visit with KABI Wake Up Call host John Anderson about Symphony at Sunset this Saturday.
The Symphony at Sunset Annual D-Day Commemoration Concert will be held Saturday, June 2, on the grounds of the Eisenhower Presidential Library in Abilene, Kan. This patriotic event is the perfect opportunity to pay tribute to all veterans.
The WWII pop-up museum opens at 1 p.m. Additional activities will begin at 4 p.m., and include the Fort Riley Commanding General's Mounted Color Guard, Civil War encampment and a variety of activities for kids of all ages. Food and beverage vendors will be open, allowing concert enthusiasts to picnic on the grounds. The music begins at 5:30 p.m. with a local band favorite, Everyday Lights. The 1st Infantry Division Band performs at 7 p.m. with the Salina Symphony headlining the event at 8:30 p.m. just as the sun sets.
This year's concert will feature guest artists Tatiana Tessman on piano and Trevor Duell on trumpet.
Admission is by donation. Rain location will be Abilene High School Gymnasium. This event is generously sponsored by Marshall Motors and the Eisenhower Foundation.
The museum building is undergoing a complete redesign and access to the library building exhibits will be restricted for event setup. However, boyhood home tours will be provided from 9 a.m. to 4:30 p.m. at a reduced admission of $3.