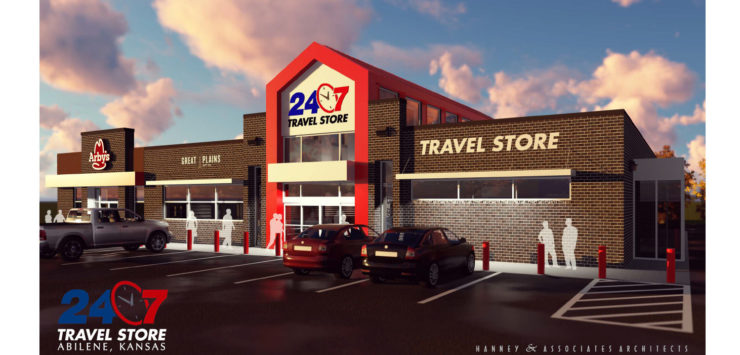 A new truck stop and travel store opened Monday along Interstate 70 at Abilene.
A new 24/7 convenience store and new auto pumps began operations. According to the company, they have made a commitment to Abilene by tearing down the old abandoned hotel and built the new Travel Center to enhance the entrance to Abilene and a gateway to the Eisenhower Presidential Library.
The Abilene 24/7 Travel Store provides a full line of convenience store services with touchless restrooms and Great Plains Gift Store. The store has 12 auto fueling locations providing Unleaded Gasoline, Regular Unleaded Pure Gasoline without Ethanol, and Auto Diesel.
Gasoline Customers can save 5 cents per gallon every time they purchase gasoline with Cash, Check or using the SAVE 5 fuel cards.
The 24/7 Travel Stores are known for great customer service and clean restrooms.
With the new store open the old store will be demolished and the old fuel tanks taken out. Then the new paving will be completed and the project finalized.
The 4 Truck fueling islands and the new Arby's will open in late May.
The Grand Opening is projected for early June 2018.
The Abilene location is one of 10 of the 24/7 Travel Store locations in Kansas.