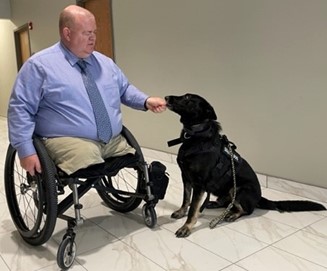 After years working in the criminal justice system, Neal Gugler will bring a lifetime of experience to his new job as Dickinson County's magistrate judge.
Gugler, a rural Chapman resident, was appointed Dickinson County Magistrate Judge March 4 by the 8th Judicial District Nominating Commission following a public interview process. Eight candidates had applied for the position.
"I was speechless and very humbled to be chosen to be in this position," Gugler said. "I take the work a judge does very seriously."
Gugler will be sworn into office during a robing ceremony set for 1:30 p.m. Friday, April 15 at the Dickinson County Courthouse, Courtroom 1. The public is invited to attend. The ceremony also can be viewed on Zoom. The link is Launch Meeting – Zoom. Meeting ID: 817 4876 8738; Passcode: 586851.
Dickinson County District Court will be closed from 1 to 3:30 p.m. that day so staff can attend.
Besides serving as magistrate judge in Dickinson County, Gugler also will be assigned to cover cases in Geary County, according to Cindy MacDonald, Dickinson County clerk of the court.
Local connection
Gugler was born and raised in Emporia, although his family's roots are in Dickinson County. The son of Ron and Marilyn Gugler, his parents moved to Emporia for employment before Neal was born. He graduated from Emporia High School and Emporia State University then went to work as a community corrections officer covering Lyon and Chase counties. While there he met his wife, Lisa.
In 2000, Neal and Lisa moved to Lawrence for Lisa's job. There, he went to work for the Douglas County Department of Youth Services and began a graduate program in criminal justice at Washburn University in Topeka.
After completing that program, the Guglers moved to Overland Park where Neal started work as a court service officer for Johnson County, holding that job until 2013 when the family moved to the Gugler family homestead in rural Dickinson County. Gugler farmed the property for about two years and then returned to law enforcement part-time working for the Junction City Police Department. In addition, he began work as a special investigator with the Kansas Bureau of Investigation in 2017.
"Basically, I did background investigations for the KBI and Governor (Laura) Kelly," he said. "That took me all around the United States. I loved working for the KBI. They are a great team, great people to work for."
Philosophy
Gugler plans to bring the same philosophy to the judgeship he has used in all his other jobs in the criminal justice system: Everyone is human.
"People have low points in their lives and no matter what, everyone deserves respect, to be treated equally and fairly. That's how I've always approached cases, especially mental health or addiction issues," he said.
"People do not choose to become drug addicts or alcoholics. It's important to remember the circumstances. The court system should grant them the opportunity and resources to help them help themselves," Gugler explained.
Service dog
Gugler said he is looking forward to beginning work on Monday, April 18 when he will begin hearing cases.
When Judge Gugler takes the bench, he will be accompanied by his service dog, Deacon.
"I joke with the people in the court clerk's office, I don't know if they're more excited to have me onboard or have a dog in the office," Gugler said with a laugh. "Deacon is a German Shepherd. He's got quite the personality. He's like every other dog. He will give you the saddest eyes and make you think he is malnourished, playing you for treats."
Gugler and Deacon have been a team for a little more than a year.
"I got him when I was out in the field with the KBI. He has been a great asset for me," Gugler said.
As he prepares to start his new career, Gugler looks forward to serving the 8th Judicial District. He knows a judge has a lot of influence over people's lives.
"It's not a responsibility to be taken lightly," he said.