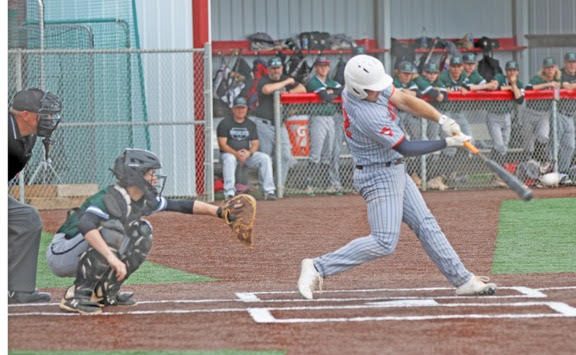 Mulvane 3 Abilene Cowboys 0
The Abilene Cowboys had their baseball season come to an end Tuesday night at McPherson, in a 3-0 loss to Mulvane.  The game was stopped on two separate occasions for around two hours because of lighting.
Mulvane scored runs in the 1st, 3rd and 5th innings and all three runs were scored by Senior, Tab Creekmore. Sophomore, Parker Richardson drove him in, in the 1st and 3rd innings and then in the 5th Junior, Hunter Seier drove in Creekmore with a triple.
Wildcat Junior pitcher, Mason Ellis gave up just 2 hits over the first 5 innings.  He was relieved by Sophomore, Julien Myers, who gave up just 1 hit over the final 2 innings.  Despite not getting a lot of hits off of Mulvane pitching, the Cowboys stranded 8 base runners in the game.  Abilene Senior, Kaden Coup surrendered 8 hits and 3 runs in the loss.  He did strikeout five batters in 5 innings.  Freshman, Stocton Timbrook pitched the final inning for the Cowboys.
Abilene finished the season 10-11 and graduated 4 Seniors off of their team – Ben Short, Coup, Michael McClanahan and Robbie Keener.  Coup and Keener will take their talents to Kansas Wesleyan next year to play baseball.
Mulvane improved to 14-7 with the victory over Abilene.  The Wildcats went on to face McPherson in the Regional Final.  McPherson held off Chapman 5-1 in the other semifinal game.  The Wildcats defeated the Bullpups to make their second straight trip to State, Mulvane finished 3rd at the 4A State Tournament in Salina in 2019.