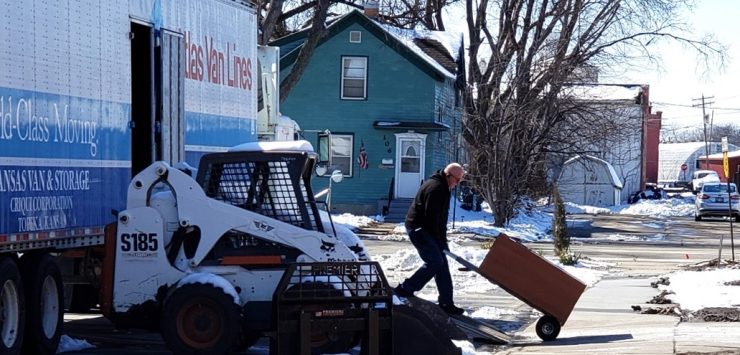 Moving Day: Several offices return to courthouse
Photo by Janelle Dockendorf/Dickinson County assistant county administrator
An employee with Kansas Van & Storage pushes a loaded dolly toward the west courthouse entrance Monday afternoon. Haulers had to pack up the District Court and other court related offices at Sterl Hall before transporting the equipment to the courthouse.
Despite a snowstorm on Sunday and icy conditions Monday morning, several Dickinson County offices moved as planned into their offices in the newly renovated courthouse.
Movers from Kansas Van & Storage of Topeka were in Abilene Monday and Tuesday moving Dickinson County District Court, Community Corrections, Court Services and the Dickinson County Attorney's Office into their new quarters.
District Court and the new County Attorney's office are on the top floor of the courthouse. Community Corrections and Court Services are located on the main floor.
Until the move, the various court offices were located at Sterl Hall for the past year as renovations were underway. The County Attorney's office remained in its former location east of the courthouse until the move.
Other county departments and offices are expected to move back into the courthouse in the near future.