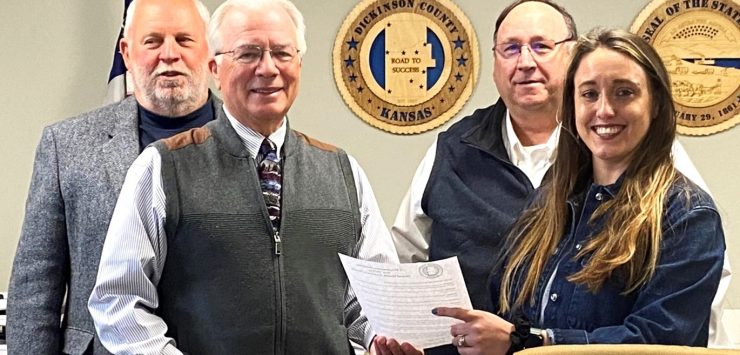 Photo by Kathy Hageman/Dickinson County Public Information coordinator
Dickinson County Commissioners, from left, Craig Chamberlin, Lynn Peterson and Ron Roller, proclaimed May as Mental Health Awareness Month during their May 5 meeting. Taylor Haws, right, accepts the proclamation.
Commission declares May as Mental Health Awareness month
Taylor Haws, community-based services coordinator for Central Kansas Mental Health Center, met with Dickinson County Commissioners Thursday, May 5 as the commission proclaimed May as Mental Health Awareness Month.
CKMHC oversees Dickinson County. Gretchen Boyum, also from Central Kansas Mental Health, was in attendance.
Haws told commissioners that mental health is the key component of every individual's physical health and emotional well-being and that mental illness affects people of all ages, races, ethnicity and income levels.
"Suicide is the second leading cause of death for Kansans age 10 to 34," Haws said. "Mental health conditions are not only common, but treatable. An effective intervention can save lives.
She said the pandemic has had an impact on the nation's "collective mental health" with one in three adults reporting depression or anxiety and that untreated mental illness leads to higher rates of emergency room visits, hospitalizations, school dropouts, unemployment and suicides.
Haws said one big change CKMHC recently has started is same day access.