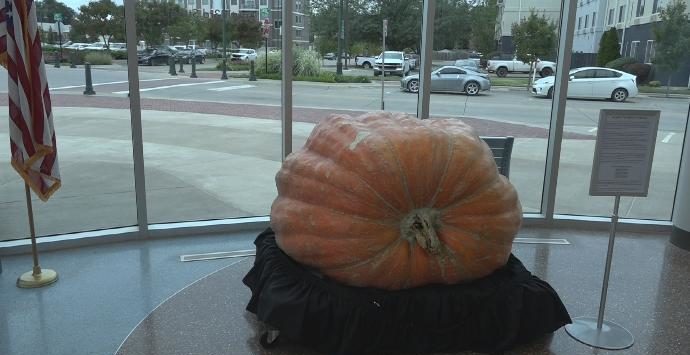 Fall is in the air and that means pumpkins but—the Flint Hills Discovery center has the largest pumpkin the state of Kansas has ever seen.
The pumpkin weighs 1,176 pounds– a state record for any Kansas grown pumpkin.
It was grown by Jacob Marintzer and his family of Westmoreland.
The pumpkin grew for 83 days and was picked on September 9th.
Marintzer fertilized the pumpkin daily — and gave it 100-to-250 gallons of water a day.
The giant pumpkin commonwealth weighed it for record in Oklahoma.
Jonathan Mertz, FHDC Event Supervisor, said it's a site to see.
"It was grown in the Flint Hills so, it is appropriate to have it here at the Flint Hills Discovery Center. We are very excited to have it we've gotten incredible response and we invite everyone to come down and check it out," Mertz said.
Anyone can go see the giant pumpkin for free until October 5th.