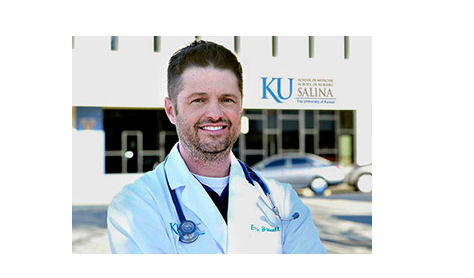 Dickinson County native Erik Bowell is living proof that from a person's darkest moments can come the inspiration needed to change one's own life. At 47, Bowell is by most standards an unlikely med student and literally the gray beard of this year's class of eight freshly minted doctors who will be graduating from the University of Kansas School of Medicine-Salina.
Bowell wasn't always planning on becoming a doctor, but the death of his son from sudden infant death syndrome in 2010 shook him to his core and changed the lives of himself and his family. So nearly 30 years after graduating from Chapman High School in 1989, Bowell will be receiving his medical degree, and then it's off to Northern Colorado Medical Center for three more years of study. By the time he finishes his residency in family medicine in Greeley, he'll be 50 years old and ready to go into practice.
"I feel like becoming a doctor was a calling for me," he said. "It came when it came. It didn't matter that I was 40 years old. When we get a clear vision of what we are supposed to do with our lives, there are no 'buts.' Many things we see as barriers only exist in our minds."
Finding his way
Bowell came to medical school at an age when most people are starting to college shop for their children, not looking to enroll themselves. Like many people, Bowell searched for the right fit after high school. He went to Kansas State University for a couple of years right out of high school but lacking any real direction he dropped out. Then he worked in law enforcement as a patrol officer, a drug interdiction officer and a detective. After that he went to work in investments and insurance and eventually ended up in Salina.
Growing up in the Abilene area, Melissa and Erik had known each other for years when they both landed in Salina. Mutual friends finally got the two together and they started dating and eventually there was a dramatic marriage proposal choreographed by Erik that played out in front of their colleagues at Salina Family Healthcare.
"It was an extremely busy Friday afternoon at the clinic, and I was working on the floor as a medical assistant," Melissa said. "I had just come out of a room when one of the nurses came around the corner and said, 'MJ, get the EKG machine to Procedure Room 1, NOW!'"
Melissa's mind was frantic as adrenaline caused the blood to course through her veins as she tried to imagine what sort of emergency there was.
"I started to open the procedure room door, but it was dark, so I let it shut," she said. "I saw my boss down the hall, and she said 'go in there.' When I got in the room it was dark except for a procedure light that was shining down on Erik, who was on bended knee.
"He said to me, 'the doctor said it's my heart, and the only cure is if you give me yours for the rest of your life.' I just stood there. My brain was like a roller coaster, and I couldn't process what was going on. Then I heard my roommate's voice saying, 'aren't you going to answer him?'"
Zane changes everything
So in 2008, Melissa and Erik were married, and in 2009 Zane was born into a blended family that included Justin, Kiara and Samantha from Erik's previous relationship and Joey from Melissa's prior relationship. When Zane became ill in 2010, he was flown to Wichita and died just eight weeks after being born. Several members of the Salina Family Healthcare community were at their side when Zane was in the hospital to offer them comfort and consolation. Their concern for his family helped Erik make the decision to switch career paths.
"Medicine had been an interest early in my life, but I was afraid of the financial and time commitments," he said. "Since Melissa worked at the residency program, we had the opportunity to befriend many of the residents and faculty. Witnessing their journey as well as receiving encouragement from them planted the seed.
"When Zane died, I had already realized my worst fear, so going back to school didn't seem so scary," he continued. "I wanted to make the most of my life, and spend it doing something I really wanted to do."
As fortune would have it, the KU School of Medicine opened its doors in Salina in 2011, so the likelihood of Bowell becoming a doctor was becoming more real. But before he could apply to medical school, there was the matter of finishing up his undergraduate degree. He studied for one semester at K-State-Salina and then completed his degree in biology with a minor in chemistry at Kansas Wesleyan University.
Then there was the issue of passing Medical College Admission Test, which he took at about the time their daughter Claire was born. He scored well despite being sleep deprived from living in a house with a new baby and caring for Melissa, who was having seizures.
"I don't think it's possible to overstate how important the existence of the Salina campus was to making my decision," Bowell said. "If the Salina campus didn't exist, I'm not sure I would have gone to medical school. I truly believe Salina was the best place for me not only geographically, but characteristically. The small class size and family atmosphere was a perfect fit for me."
Next stop, Colorado
This summer, Erik and Melissa will load up their family and head to Greeley, Colorado, to begin yet another chapter of what has already been a storied life together.
"We always knew it was possible we'd have to relocate at some point, and now we know what that part of the plan looks like," Bowell said. "I'm honored to be going to such an amazing program. We are excited for the opportunity and look forward to a new adventure. I mean, c'mon, it's Colorado. We can see the Rockies from our new house."