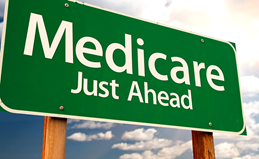 TITLE: KNOW WHAT YOU GET WHEN YOU ENROLL FOR MEDICARE
BY:  Haley Jones
Director of Development & Marketing
Marketing ~ Physician Recruitment
Medicare open enrollment for 2022 coverage is October 15 through December 7.  It is so important to know what you are getting with the healthcare coverage you select, and if your trusted providers are in the network that you choose.
Memorial Health System wants you to call them before you select ANY Medicare Advantage plans.  These plans have lower premiums and are sometimes even free; some of them even include vision and dental benefits.  They look great compared to Original Medicare when they offer these additional coverages.  However, when more serious health issues arise, seniors find themselves paying even more out-of-pocket expenses when they have Medicare Advantage Plans.
Kansas hospitals have experienced many Medicare Advantage enrollees that are denied necessary care.  Medicare Advantage plans have several disadvantages and they come with rules that must be followed whereas Original Medicare does not. Some examples include the following:
Limited number of network doctors, hospitals, and specialists that Medicare Advantage enrollees must see.  What does this mean?
The doctor you may want to see, may not be in your network, and if you see them, you could pay large out-of-pocket expenses because you are not covered.
You may have to travel long distances to see a doctor in your network.
Travel expenses add up to see doctors in your network.
If you go on vacation and you are out of your network, you are not covered.
Prior authorization approval for most tests and treatments.  What does this mean?
Prior authorization can have long wait times.  Until you are authorized, you are going without care.  Depending on the health concern you are facing, this could be detrimental.
Approval to see specialists.  What does this mean?
More waiting for approval to see a specialist while your health concern worsens.
Plan benefits may change annually.  What does this mean?
Just when you become used to what you are getting with your insurance, then it could change on you.  That change could be a doctor you are seeing moving out of network forcing you to seek care with another doctor.
Those additional benefits could end up costing you more than you budgeted for.  What does this mean?
Enrollees who think they are getting a good deal with Medicare
Advantage because it comes with additional benefits like dental, vision, and hearing are almost always met with high out-of-pocket copays.  Also, once certain amount of coverage is exceeded, the enrollee is responsible for 100% of the costs.
Medicare Advantage plans risk patient safety.  How does this happen? Most Medicare Advantage plans own pharmaceutical companies.  By shipping drugs directly to the patient, and bypassing hospital safety checks, they can collect more revenue for themselves.   Safety measures performed by the hospital include checking temperature control, medication authorization, medication reconciliation, and a check of medication safety guidelines.
Medicare Advantage plans can surprise enrollees by how fast the costs can add up.  One example is hospitalization costs.  If you have Original Medicare it comes with a Part A deductible.  If you are admitted to a hospital, there are no copays for the first 60 days.  In contrast, the Medicare Advantage plans often charge a daily copay which can add up quickly resulting in a higher charge than what you would have paid for the copay with Original Medicare.
When shopping for Medicare, Memorial Health System wants you to be well informed and consider comparing the two plans.  While Medicare Advantage can look appealing, it could end up costing you thousands of dollars which you did not budget for.  Memorial Health System is happy to answer any questions you have while you consider what plans are best for your healthcare needs and we want to help you make sure that your doctors are in your network. Memorial Health System is here: Caring for You! Call us 785-263-2100.