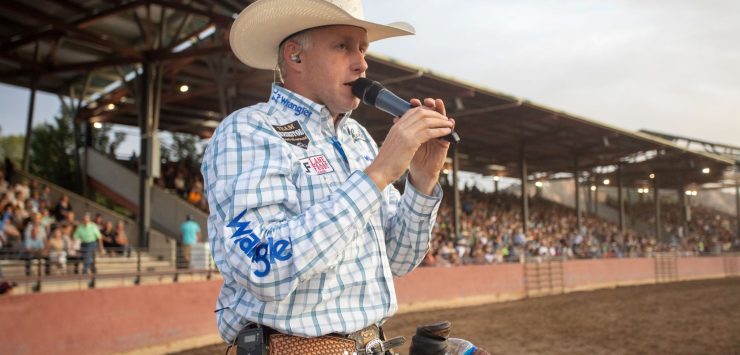 Abilene rodeo hires Kansas rodeo announcer
 A long-time fan of the Wild Bill Hickok Rodeo in Abilene is now behind the microphone, working the rodeo. As a kid, Scott Grover's parents brought him to the rodeo when they visited friends in Abilene. He watched announcer Phil Gardenhire and rodeo clown Lecile Harris, both legends in the sport, and thought, 'maybe someday I can do what they're doing.' And now he is. The Camden Point, Mo. man will announce this year's Abilene Rodeo. Grover, who grew up in Morrowville, Kan., didn't have a rodeo background. While in junior college, he helped with a youth rodeo. One day, the announcer got sick, and Grover, who had shown interest in the job, got to handle announcing duties. After graduating from Kansas State University in 2001, he taught high school agriculture in Council Grove for four years, then began announcing rodeos full time. He was a team roper for a short time, but his talents were with public speaking. "I dabbled in team roping a little bit, but I was not very good at it. Luckily God gave me a voice to talk about rodeo." He is part of the PBR World Finals announcing team and announces PBR Velocity Tour events and PRCA rodeos as well. He works about 40 events a year. He has been selected as the announcer for the RAM Prairie Circuit Finals Rodeo six times, the 2014 RAM National Circuit Finals Rodeo, the 2014 National Finals Steer Roping, and is the 2017 WPRA Announcer of the Year.
Grover married Becky McGee, a former Miss Rodeo Missouri, ten years ago. The couple has three children: son Statler, and daughters Lano and Clemmie Mae. Grover loves rodeo. "I'm a fan of the sport," he said. "I didn't grow up in the industry and my parents weren't cowboy people, but I fell in love with it at an early age.
"Being able to talk about rodeo and tell the stories of rodeo and cowboys and cowgirls is what I love the most about it."
He's delighted to work the rodeo where his love for rodeo began. "I am beyond excited for this rodeo," he said. "It's like I've been waiting since I was ten years old to be inside that arena." The Wild Bill Hickok Rodeo takes place August 1-4 at the fairgrounds in Abilene. Performances are at 7:30 pm nightly. Tickets can be purchased online at WildBillHickokRodeo.com, at West's Country Mart and other area retailers, and at the gate. They are $10 in advance and $13 at the gate. Children's tickets are $7 for ages 7-10. For more information, visit WildBillHickokRodeo.com