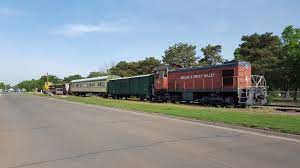 KANSAS FOUNDATION AWARDS $30,000 TO ABILENE & SMOKY VALLEY RAILROAD FOR MAJOR PASSENGER CAR IMPROVEMENTS
The Abilene and Smoky Valley Railroad has received a significant financial gift from a Kansas foundation that focuses on providing financial assistance to community projects in Kansas, Nebraska, and Missouri. The Hays-based Ross E. and Patricia A. Schmidt Foundation has awarded $30,000 to partially meet the cost of making much needed improvements for the train's electrical, heating and cooling and audio systems.
The gift was announced today by A&SV President and General Manager Ross Boelling, who added that the Schmidt grant is being matched by local fundraising efforts.
Boelling said the A&SV organization has successfully completed a three-month local campaign to raise the other half of the $60,000 cost to cover a new generator, new HVAC systems for both passenger/dining cars and a new, more dependable audio system. 
"These improvements are long overdue," said Boelling, "and when this deal is finalized, we will immediately begin the process of installing the new equipment."
Boelling added that the new equipment is being purchased from local vendors, and he hopes to have the new equipment installed in time for upcoming scheduled dinner trains and special holiday passenger excursions.
The Schmidt Foundation has awarded startup money to community projects across Kansas, Nebraska and Missouri in four broadly defined areas: economic development, education, the arts, and health care. The organization was founded by the late Bob and Patricia Schmidt of Hays. Schmidt was a successful Kansas broadcaster and cable operator, who founded Eagle Communications, a chain of employee-owned radio stations in the three states. In the Abilene area, Eagle owns KJCK AM/FM and KQLA-FM in Junction City and Manhattan, and KINA-AM and KSKG-FM in Salina.
"Bob Schmidt was a community broadcaster who spent his entire life working for the betterment of Kansas communities," said Gary Shorman of Hays, president of the Schmidt Foundation. "We are happy to invest in organizations such as the Abilene and Smoky Valley Railroad that provide an educational focus and an economic spark for local communities."  Boelling said the 2022 tourism season has been one of the railroad's best in its 28 years of operation, as passengers from 34 Kansas counties, 40 states and 10 foreign countries have ridden A&SV excursion and dinner trains so far this year. Since 1994, the railroad's inaugural year, over 280,000 passengers have ridden on the A&SV, including 13,000 elementary school children.
"Passengers and diners have put up with some really inconvenient power outages and air conditioning failures this summer," he said, "so this financial support from the Schmidt Foundation, as well as from all who have donated to a special fund we set up for this project, have made a significant contribution towards making future A&SV trains more comfortable and enjoyable."