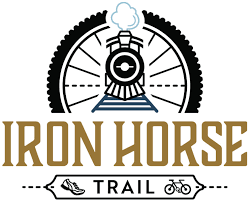 Iron Horse Trail Workday
The Iron Horse Trail is now complete from Campbell to Brady Street (about .25 miles). Volunteers are needed for a workday on Saturday, October 8 at 9 am at Joe Minick's Building at 217 N. Cedar Street to assist with bridge construction. Work includes drilling holes, welding, use a cut-off torch, etc.
The Iron Horse Trail will be completed with grant support from the Sunflower Foundation, Community Foundation of Dickinson County and Quality of Life Coalition.
For more information about the Iron Horse Trail, visit www.Facebook.com/IronHorseTrailKS