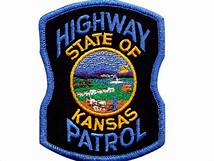 UPDATE:
Authorities are seeking positive identification of a man they say  shot himself on Interstate 70 on Tuesday shortly after noon.
Dickinson County Sheriff Gareth Hoffman said an autopsy was being performed on the man Wednesday.
"At about 12:08 a Dickinson County deputy was attempting to make a traffic stop on I-70 westbound at about milepost 273," Hoffman said. "The officer attempted to make a traffic stop on a 2007 pickup for a tag violation. The officer stopped the vehicle. As he starts to make his approach to make contact with the driver, the driver of the vehicle fired one round through a handgun taking his own life."
The male was the only occupant of the vehicle.
"We are hoping to get a positive identification on the individual at that time," he said.
Hoffman said the tag on the vehicle is from Indiana.
Trooper Ben Gardner with the Kansas Highway Patrol confirmed that traffic was stopped while the Dickinson County Sheriff's Office responded to reports of a gunshot.