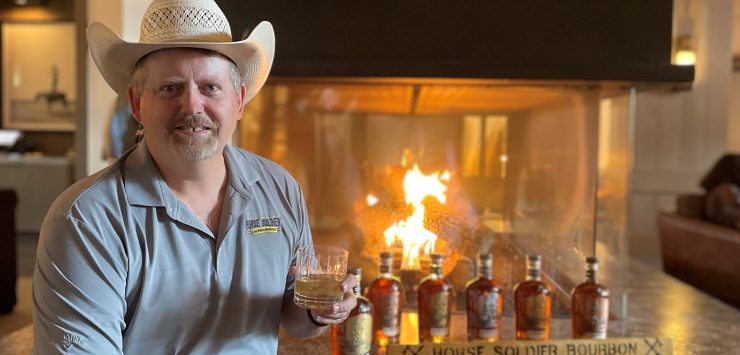 HORSE SOLDIER
Abilene rodeo to host Kansas native, special operations soldier 
Abilene, Kan. (July 31, 2023) – The leader of the group of US Army Green Berets who helped free northern Afghanistan from Taliban rule will be in Abilene, Kan.
Mark Nutsch, a Kansas native who is co-owner of Horse Soldier Bourbon, will be at the Wild Bill Hickok Rodeo, August 1-4, to tell his story. At the Elks Lodge, he will present a Whiskey and War story.
Nutsch, now a resident of Leavenworth, Kan., led a twelve-man team of U.S. Army Special Forces, or "Green Berets," days after the September 11, 2001 attacks, to rid northern Afghanistan of the Taliban and al Qaeda terrorists.
The team was dubbed the Horse Soldiers because their work required them to be on horseback through some of the most rugged, inhospitable, mountainous terrain in the world.
But before Nutsch was fighting the Taliban, he was riding horses, showing them at the Central Kansas Free Fair, and attending the Wild Bill Hickok Rodeo as a kid.
As a kid, he grew up in Washington, Kan., then the family moved to a ranch in the Flint Hills near Alma.
He competed in Little Britches, high school and college rodeo as a tie-down roper and team roper, graduating from Kansas State University in 1993. In college, he completed Army ROTC, and upon graduation, entered active duty, serving in the 101st Airborne Division as an infantry officer, then in special operations. In special operations, he was a Ranger Regiment platoon leader, then volunteered again and was selected for the Special Forces. He had been operational for two years with the 5th Special Forces Group when 9/11 happened.
"My team happened to be picked to spearhead the response," he said. "We found out, 48 hours before insertion, that we would be riding horses in the mountains of northern Afghanistan."
Among the twelve men on his team, he was one of two men who knew how to ride, having ridden on the family ranch and in rodeo.
The official name of the assignment was Operation Detachment Alpha 595 (ODA595), but the media dubbed it as the Horse Soldiers.
The Horse Soldiers worked with three different Afghan ethnic factions, getting them to unite and raising an army of 5,000 Afghans, nearly 3,000 on horseback. Two more Special Forces teams were sent in for this effort. Over a two-month period, the Green Berets advised the Afghan commanders and directed a massive air campaign to rout the Taliban from power. By October 19, the main city of Mazar-i-Sharif was liberated, and by Nov. 14, the northern provinces were liberated.
"In less than ninety days," Nutsch said, "less than 100 Americans on the ground had toppled the Taliban government." It is considered the most successful unconventional warfare campaign in modern history.
After 24 years of service on active duty and in the reserves, Nutsch ended his military service in 2017.
He and his partners are distilling and selling Horse Soldier Bourbon. Each of the three bourbon offerings are Each of the three bourbon offerings are award-winning.  Each, having won double gold in the 2022 San Francisco World Spirits Competition.  The bottles are forged by repurposed World Trade Center steel.  Horse Soldier Bourbon has been distributed broadly across Kansas for three years.
Nutsch and his teammates have co-authored their team's incredible story last year, told in their own words.  Their book SwordsofLightning.com was a #1 new release on Amazon for a short time.
Horse Soldier Bourbon will be for sale at the Wild Bill Hickok Rodeo. A branded tent will be set up on the east side of the arena, with drinks for sale. Proceeds from the sale of the bourbon will go to the Wild Bill Hickok Rodeo.
For more information on Horse Soldier Bourbon, visit HorseSoldierBourbon.com.
The Abilene rodeo is August 1-4, with shows nightly at 7:30 pm. Tickets are $10 per adult through July 31; on August 1, they go up to $13. Children's tickets are $7 for ages 4-10.
Rodeo tickets can be purchased online at WildBillHickokRodeo.com, at West's Country Mart, and other area retailers, and at the gate.
Kansas resident and Green Beret Mark Nutsch with his brand of Horse Soldier bourbon. Nutsch grew up on a ranch near Alma and was part of the Horse Soldiers, also known as ODA595, that rid Afghanistan of the Taliban and al Qaeda terrorists after 9/11. Photo courtesy Nutsch.