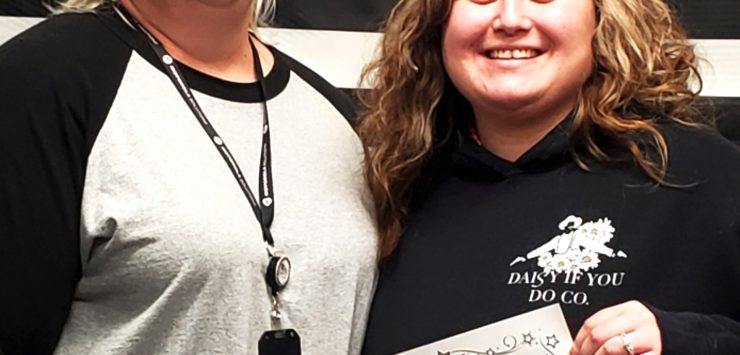 Dickinson County 911 Emergency Communications Supervisor Darla Odle, left, presents a certificate to Shannon Haaga, recognizing Haaga as the February Telecommunicator of the Month.
Haaga named February Telecommunicator of the month
Dickinson County Public Information coordinator
911 Emergency Communications Dispatcher Shannon Haaga is Dickinson County's February Telecommunicator of the Month.
Haaga received a certificate and pin for her "excellent work" in February, according to 911 Emergency Communications Director Emily Nichols.
"It's just a way of saying, 'Hey, you did a great job and I want everyone to know'," Nichols explained.
Haaga, who has worked as a Dickinson County dispatcher for five years, is the first person to be honored as telecommunicator of the month. During her time with the county, Haaga has grown to be an "excellent public telecommunicator," Nichols said.
"Shannon is willing to cover overtime shifts as needed and even rearranged her life to move to another shift temporarily, to help out due to staffing shortages," Nichols explained.
During February, Haaga handled four Code Blue (not breathing) calls and was ready to help a caller deliver a baby, "but EMS showed up just in time," Nichols said.
"Shannon always goes above and beyond to help not only our citizens that call but our responders as well. Her Quality Assurance scores exceed our agency standards and she aims to be the best at what she does. 
"I am beyond grateful to have her on our team," Nichols added.
Nichols decided to kick off the recognition program in February, rather than January because she wanted to wait until the 911 center returned to its renovated space in the basement of the courthouse.
911 moved back into its home space on Jan. 25.
Haaga also has been nominated to the APCO (Association of Public Safety Communications Officials) Shooting Star program which recognizes Kansas Public Safety Telecommunicators.