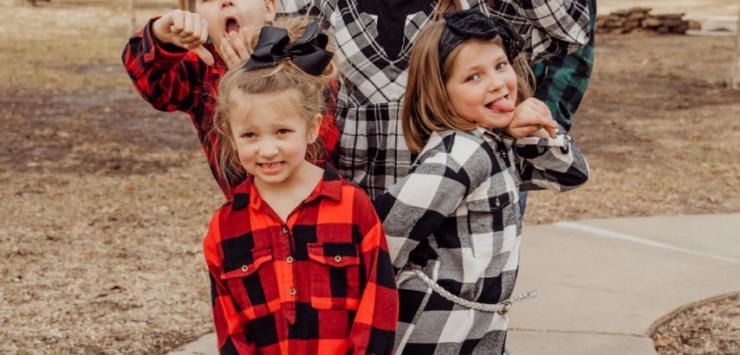 Local family helped through Dickinson County cancer fund
Abilene, Kan. (July 22, 2019) – Hayden Ballou can finally fish again, hunt, and play baseball.
For a normal nine-year-old, those activities are ordinary.  
But for Hayden, who lives with his mom and dad, William and Ashley Ballou, near Carlton, Kan., those things are a big deal. Hayden was diagnosed with ALL: acute lymphoblastic leukemia – in January 2016. Since then, he's been in and out of Children's Mercy in Kansas City, as he took chemotherapy and other treatments. Right now, his cancer is in remission. Hayden's last chemotherapy treatment was in late April, with this last round of chemo considered maintenance chemo. And getting back to normal is what he wants to do. When he was first diagnosed, his three sisters: Payton, who is eleven, Aspen, age eight, and Ellason, who is five, struggled with it. "It was hard for them to understand," Ashley said. "All they understood was cancer and death. It took them a long time to understand that Hayden had a better chance of beating it." Because of the risk of infection and the port being in place, Hayden hasn't been able to do what he wants to do. Wrestling was out; the port might be disturbed. He just started fishing a few months ago, but he can't touch the fish, due to the bacteria. And he's back to hunting in a tree stand. William works at Foley Equipment in Salina, and Ashley used to run an in-home daycare. But because of the chance of illness, she had to close it. Their schedule, too, was erratic, depending on when Hayden had doctors' appointments. "We definitely had to figure out a new normal," Ashley said.  
His sisters also had to adjust to the new normal. If Hayden got sick, doctors told his parents they had one hour to get him to a hospital. That meant that grandma, uncles, or aunts would be called upon to come to the house and take care of the girls while William and Ashley hurried with Hayden to the Abilene Hospital. "The girls have been jostled around," Ashley said. They never knew how long Hayden would be in the hospital: whether two days or two weeks. "That's been tough on them."
The girls were their brother's personal bodyguards when he returned to school. "When he first came back, they wouldn't let other kids talk to him or touch him," Ashley said. "The teachers had to talk them down. They are very protective of their brother."
With one income, the Ballous have pinched pennies. They were first offered financial help through the Elsie Brooks Memorial Cancer Fund of Dickinson County in 2016, but they refused the money. Friends and coworkers had done several benefits for them, and at that time, the Ballous had a financial cushion. "We felt like, since we had fundraising money, that somebody else might need it more." But the cushion ran out, and the Elsie Brooks Fund was happy to offer help. "They've been absolutely amazing," Ashley said. "They have helped us with money towards travel back and forth to Kansas City for treatments. If we have to stay overnight, they have helped pay for the hotel room and food." Hayden has monthly checkups to make sure the cancer hasn't returned. Having a child with cancer isn't easy. "It was so hard to see your kid go through so much pain and there is nothing you can say or do, and you have no explanation for him," Ashley said. Getting help from the Elsie Brooks fund and from the community has been a lifesaver for the Ballous.  
"It's been amazing. It's the perks of living in a close knit community, with awesome people who want to help out." Hayden's Grandma and Grandpa Russell were also a big help to the family. The Wild Bill Hickok Rodeo has partnered with the Elsie Brooks Memorial Cancer Fund for the Friday, August 2 night of rodeo. Voluntary donations are accepted that night at the rodeo, as pink buckets are passed through the grandstands. The rodeo has worked with the Elsie Brooks fund for the past eleven years. Throughout that time, over $34,000 has been raised through the rodeo's donations. The Fund was founded in 1993 by Elsie Brooks, a Dickinson County resident. Funds for cancer patients are available and are not restricted due to income. Brooks' will set aside the monies for the fund. The Wild Bill Hickok Rodeo runs July 31-August 3 and begins at 7:30 pm each night. Tickets range in price from $8 to $14 and can be purchased online at www.ckff.net, at the fairgrounds, and at area retailers. For more information on the Elsie Brooks Cancer Fund, contact Chris Ostermann at 785.479.3749. For more information on the Wild Bill Hickok Rodeo, visit the rodeo's website at WildBillHickokRodeo.com or call the Central Kansas Free Fair office at 785.263.4570.