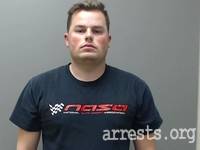 A 31-year-old Kansas soldier is in custody after authorities say he had been receiving nude photos from a 16-year-old girl and arranged to meet her in Arkansas.
Andrew Michael O'Brien of Junction City was arrested early Saturday morning in Mountain Home. Baxter County Sheriff John Montgomery  said O'Brien is on active military duty stationed at Fort Riley.
A sheriff's office report says the teen had been sending explicit photos and videos to O'Brien through social media at his request. The girl's parents were concerned for their daughter's safety.
Sheriff Montgomery said surveillance was set up at a business near the girl's home and where the two had agreed to meet.
A deputy observed a vehicle drive past the area twice before pulling in and parking at around 12:45 a.m. The man then sent a text message to the girl saying he was nearby.
After a brief exchange with the deputy, O'Brien was arrested. Handcuffs, vodka, condoms, and two cell phones were found inside his vehicle.
Montgomery said Fort Riley has been contacted and a detainer has been placed on O'Brien. He faces charges of engaging children in sexually explicit conduct for use in visual or print medium and contributing to the delinquency of a juvenile.