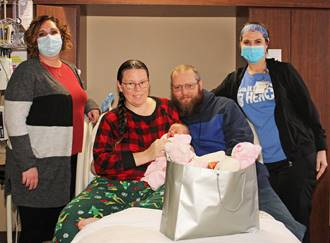 Congratulations to Katrina and Russell Clark who delivered the first baby in 2021 at Memorial Hospital in Abilene.
Isabelle Elizabeth Clark was born on Tuesday, January 5, 2021, at 1:26 a.m., in the Birthing Center at Memorial Hospital. She weighed 6 pounds 14 ounces and was 20.5 inches long.
The family received a newborn gift basket, from the Memorial Health System Volunteer Corps (MHSVC), including a hand-made quilt, burp cloth, a home-made receiving blanket, a crocheted blanket, teddy bears, and an assortment of other items.
Pictured, left to right: Michelle McClanahan, MHS Director of Volunteer Services; Katrina Clark, Isabelle Clark, Russell Clark, and Katie Snapp, Birthing Center Registered Nurse