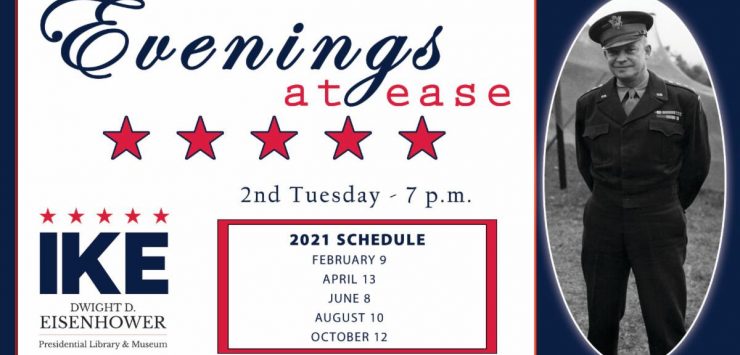 Water, Energy, and Rural Kansas
"The present and the future are bringing new kinds of challenge to federal and local governments: water supply, highways, health, housing, power development, and peaceful uses of atomic energy."
~ Dwight D. Eisenhower, August, 23, 1956
Abilene, Kan. – The next program in the Evenings at Ease series is Tuesday, October 12 at 7 p.m. central time. This online presentation will begin right at 7 o'clock, so please sign in 10 minutes early.
Rex Buchanan is Director Emeritus of the Kansas Geological Survey and recently co-authored the Kansas Notable Book "Petroglyphs of the Kansas Smoky Hills." He has been a member of the Humanities Kansas Speakers Bureau since 2010.
JOIN OUR VIRTUAL PUBLIC PROGRAMS!
URL: meet.google.com/dir-jxcv-weh
Phone: 617-675-4444 / PIN: ‪541 313 197 5536#
[Please join 10 minutes early so the program may begin on time.]
The 2021 Evenings at Ease series is made possible courtesy of the Eisenhower Foundation with generous support from the Jeffcoat Foundation.