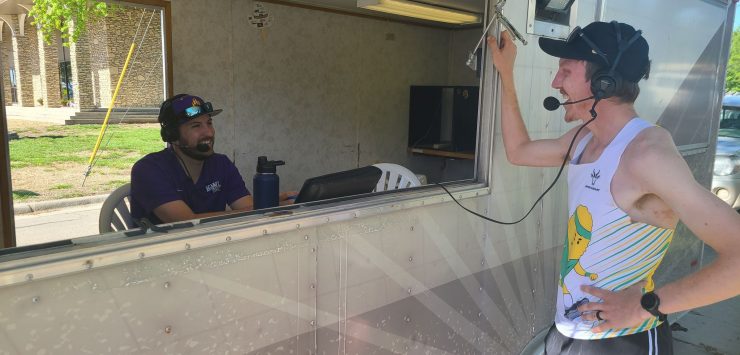 Eisenhower Marathon 2021 a HUGE hit!
The 2021 Eisenhower Marathon came and went on Saturday May 1st BUT not without a surprise Men's Winner and a Dominating performance on the Women's Side.
Layton Werth of Quinter won the male side of things in a time of 2:34:48 and had challenged to break the course record in his very 1st Marathon, Werth who had run Cross Country and Track at Brewster during his highschool time had given up running at one point but had recently taken it up again. Werth who works in Agronomy Sales says "he is unsure where his next running event will take him BUT is looking forward to possibly running Boston in the near future". Werth was challenged the majority of the race by Adam Cordell who finished 2nd.
The Women's side of things saw a dominating race of sorts as Angela Gerstenkorn finished the 26.2 mile event in a time of 3:16:41, Gerstenkorn coming off the birth of her 2nd child just shy of 6 months ago led the entire ladies field from start to finish and was almost three full minutes ahead of the 2nd place finisher Merinda Self of Wichita.
The full results of all the races from Saturday are listed below:
Men's Marathon Winner-Layton Werth- Quinter Ks-2:34.48
Men's Marathon Runner-Up-Adam Cordell-2:35.29
Women's Winner-Angela Gerstenkorn-Wichita,Ks-3:16:41
Women's Marathon Runner-Up-Merinda Self-3:19:06
Men's Half-Marathon Winner-Randy Paul-1:25:32
Men's Half-Marathon Runner-Up- Eric Morin-1:26:28
Women's Half-Marathon Winner-Mandy Zimmerman-1:26:39
Women's Half-Marathon Runner-Up-Mikayla Lisher-1:42:43
Men's 10K Winner-Ehren Carl-40:00
Men's 10K Runner-Up-Brandon Schroeter-41:48
Women's 10K Winner-Shelby Hunt-53:08
Women's 10K Runner-Up-Kate Brubar-54:52
Men's 5K Winner-Ben Geiger-22:24
Men's 5K Runner-Up-Kjell Nordgren-23:48
Women's 5K Winner-Joanna Whittit-22:15
Women's 5K Runner-Up- Lucy Kuhlman-24:16
The 2022 Eisenhower Marathon is scheduled for April 30th