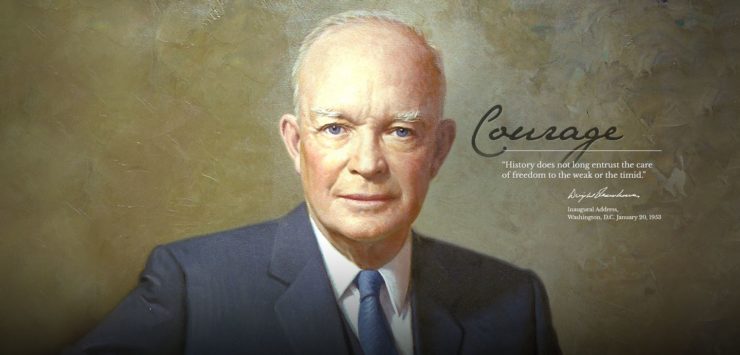 A full weekend planned to mark Dwight Eisenhower's 128th birthday!
Abilene, Kan. – Several events are planned to celebrate Dwight D. Eisenhower's 128th birthday which is Oct.14, 2018.
VFW Vigil – Friday 10/12 – 4:30 p.m. (ends at 7:00 a.m.10/13)
VFW posts from across the state will stand vigil overnight at the burial site of the President. The public is also encouraged to stop by and pay their respects at the Place of Meditation.
Wreath Laying Ceremony – Saturday 10/13 – 10:30 a.m.
Saturday events begin with the Annual Wreath Laying Ceremony led by the 1st Infantry Division of Ft. Riley at 10:30 a.m. The procession from the Library building will include a number of dignitaries and proceed to the Place of Meditation for the placement of the wreath.
American Legion Pilgrimage – Saturday 10/13 – 10:45 a.m.
The American Legion Pilgrimage will be held at the center of campus in front of the statue. American Legion Riders Post #240 will provide the rifle salute for the ceremony. Representatives from every post around Kansas will gather to pay their respects to the President.This ceremony is free and open to the public.
Eisenhower Legacy Gala – Saturday 10/13 – Library Courtyard
This year's gala will commemorate the 60th anniversary of NASA, as President Eisenhower signed the National Aeronautics and Space Act on July 29, 1958, and feature special guest Dr. Steve Hawley. A Kansas native, Hawley was named an astronaut in 1978, part of the first class of astronauts chosen specifically to fly the Space Shuttle. In five space flights and almost 800 hours in space, his missions included deploying and servicing the Hubble Space Telescope and launching the Chandra X-ray observatory. Following his retirement from NASA, Hawley returned to Kansas as a professor of physics and astronomy at the University of Kansas where he now holds the title of professor emeritus.
Due to space limitations, the gala is an invitation-only event. For additional details, please contact the Eisenhower Foundation at [email protected] or 785-263-6771.