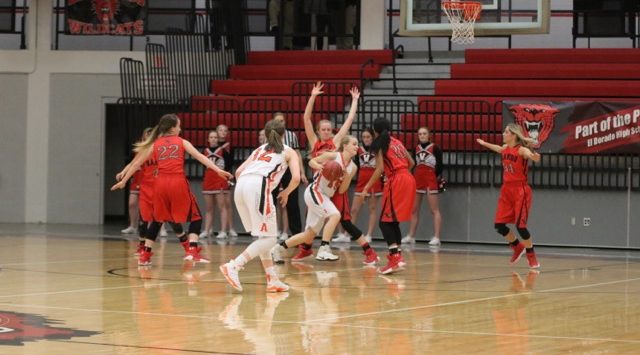 The Abilene Cowgirls shook off some early game rust on their way to a 49-37 victory over Wamego in the opening round of the El Dorado Sub-State.  Abilene entered as the #2 seed and will now face the top seed, Circle.  The Lady Thunderbirds defeated El Dorado 56-10.  The girls championship game will be played Saturday night at 6 PM at El Dorado High School.
Neither Abilene or Wamego had played prior to Thursday night since February 16th because of weather cancelations and it showed in the first quarter, especially for the Cowgirls.  Abilene hit just 1-11 shots in the opening quarter and trailed 10-4 at the end of the first quarter.  Abilene would come to life in the second quarter as they scored the first 13 points to build a 17-10 lead on a basket by Junior, Sydney Burton, with 4:21 to play in the half.  Abilene would lead 19-15 at the intermission. Burton would combine with Junior, Hannah Willey to score all 15 of the points for the Cowgirls in the quarter.
Willey would continue her stellar play in the second half.  She would score 15 of her game high 27 points in the final two quarters.  The 27 points also would match her career high, set previously against Clay Center, on January 12th.  She was Named the First National Bank of Hope Player of the Game with her effort.
In the fourth quarter, Willey helped put away Wamego.  The Lady Red Raiders got within four points at 32-28 with :52 seconds remaining in the third quarter.  Abilene, Sophomore, Shiann Olberding, would hit a pair of free throws to wrap up the scoring in the quarter and start at Cowgirl run. Abilene would go on a 10-0 run to end the third and start the fourth. Willey scored the last six points in the run to give the Cowgirls their biggest lead of the game at 43-28 with 3:34 to play.
Abilene improved to 13-7 with the victory.  The win was the 10th in a row for the Cowgirls over the Lady Red Raiders.  Wamego ended the season at 6-14 under first year Head Coach Brian McIntosh.