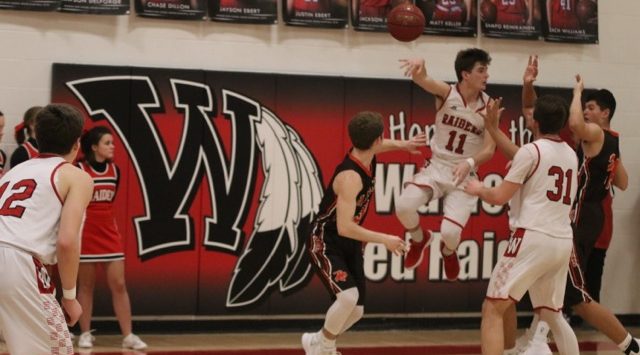 It has been a roll coaster week for the Abilene Cowboy Basketball Team.  Abilene suffered its most disappointing loss of the season at Council Grove on Tuesday, but bounced back Friday night with a  64-57 overtime victory at Wamego.  The Cowboys swept Wamego in the regular season for the first time since 2015.  That year, Abilene defeated the Red Raiders three times which included a win in sub-state.  The Cowboys very likely will have to attempt that again this season, with both teams in the El Dorado Sub-State.
The first three quarters were very tight with no team leading by more than three points.  Abilene trailed 38-36 with 3:30 to play in the third quarter after Wamego Senior, Chase Dillion connected on two free throws.  The Cowboys would respond with the game's biggest run.  Abilene went on a 12-2 run to take their largest lead of game at 48-40 with 3:21 left in the game after Senior, Noah Wildman sank a pair of free throws.  The successful trip to the free throw line didn't happen nearly often enough for the Cowboys.  Abilene shot 8-18 from the line in the fourth quarter and were not able to put away the Red Raiders.  Wamego got a three-pointer from Junior, T.J. Fritz with 5.4 seconds left in regulation to send the game to overtime. The Cowboys scored the first eight points in the extra period and never looked back on their way to the seven point victory.  Abilene shot 4-6 at the line in overtime, but still hit on just 16-33 free throws for the game.  The Victory was Abilene's second overtime win this season.  The Cowboys defeated Marysville 60-54 on the road January 5th.
Abilene got double figures from Wildman, who finished with a team high 18 points.  The Cowboys also got 13 points from Junior, Preston Boyd and 11 points from Sophmore, Travis Beetch.  Wamego got 32 points from Senior, Chase Dillion.
The Cowboys improved to 11-6, 7-1 on the season and are alone in first place in the NCKL.  Abilene will travel to Hays Tuesday.  The Red Raiders dropped to 11-5, 3-3 in the league with the loss.  Wamego has now lost four straight games.  They had been ranked as high as #4 in 4A Division by the KBCA earlier in the season.
In the first game of the night, the Abilene Cowgirls won their second straight game and completed season sweep of Wamego with a 46-35 victory. Abilene was led by Junior, Sydney Burton, who finished with a game-high 17 points.  Junior, Hannah Willey also finished in double figures with 10.  Abilene improved to 12-5, 5-3 with the victory and Wamego fell to 6-10, 2-4 with the loss.