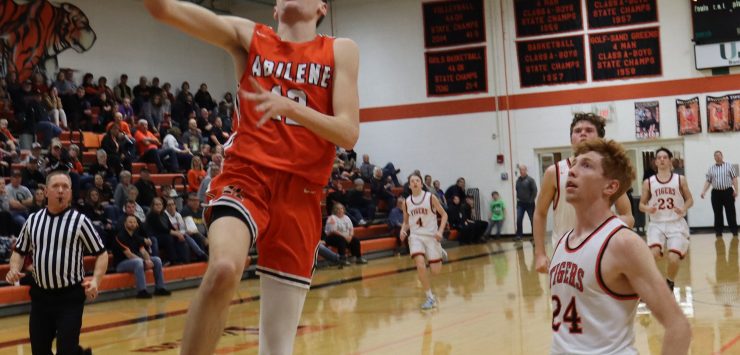 Clay Center 54 Abilene Cowgirls 23
Clay Center – The Lady Tigers completed the season sweep of Abilene Friday night.  Clay Center took control of the game in the 2nd quarter, where they outscored the Cowgirls 16-3 and led 30-10 at halftime.  The Lady Tigers increased their lead to 48-15 after 3 quarters and there was a running clock in the 4th.
Clay Center won their 4th straight game and is now 13-6, 6-3 with the victory and they have now won 4 straight games, which includes a 42-36 win at #4 Wamego on Tuesday.  The Lady Tigers were led in scoring by Senior, Shelby Siebold, who finished with 16 points.  She is the only returning starter from last year's 22-1, State team.
Abilene lost their 6th straight game and is now 3-16, 1-8 on the season.  The Cowgirls were led by Claira Dannefer, who totaled 9 points in the loss.
Abilene Cowboys 60 Clay Center 59
Clay Center – The Abilene Cowboys continued their mastery of Clay Center Friday as they defeated the Tigers for a 30th straight time.  A win streak that dates back to 2009.  Abilene jumped out to a 9-0 lead in the opening quarter and it looked like it was going to be an easy night but Clay Center responeded with a 13-0 run to end the quarter and a 15-0 run overall that extended into the 2nd quarter.  The Tigers outscored the Cowboys 20-19 in the second quarter to take a 33-28 lead into halftime.
Abilene was able to finally get Kaleb Becker going in the 3rd quarter after a slow start.  He was held to 4 points in the first half.  He was coming off a career-high 27 points in the loss Tuesday at Hays, he also registered 27 in the Cowboy's 61-35 victory on January 12 over the Tigers.  Becker scored 7 points in the 3rd quarter and Abilene led 45-44 as the two teams entered the final quarter.
In the 4th Becker won the game at the foul line as he connected on 10-13 free-throws and was 13-18 overall at the stripe on the night.  The Senior finished with a game-high 23 points and was the Nex-Tech Player of the Game.  Tristin Cottone also reached double-figures with 12 points for Abilene.  The Tigers were led by Carson Floersch's 17 points.  Mark Hoffman also reached double-figures with 16.
The Cowboys improved to 13-6, 7-2 with the victory and moved into a tie for first place in the NCKL because Concordia defeated Wamego 53-50.  Clay Center fell to 9-10, 4-5 with the loss.  Abilene will wrap up the regular season Tuesday night with Chapman coming to town.  It will be Senior Night.