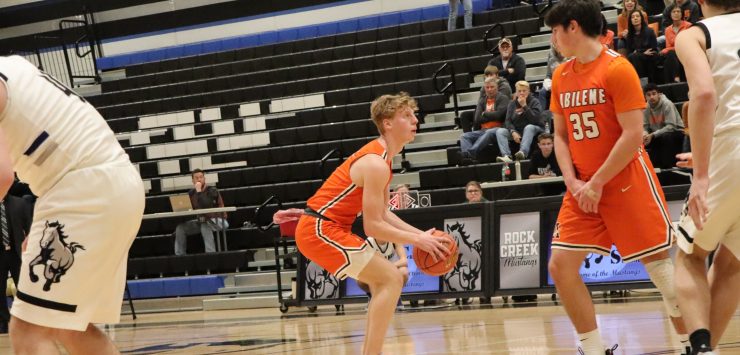 pictured with the ball is Grant Waite along with #35 Keaton Hargrave, picture courtesy of Brad Anderson
Rock Creek 54  Abilene Cowboys 50
Rock Creek High School – The Rock Creek Mustangs avenged a December loss to the Abilene Cowboys with a 4-point victory Tuesday night, in the opening round of Sub-State.  Abilene defeated Rock Creek 60-33 on December 6 and had defeated the Mustangs three straight times overall prior to Tuesday's game.  Rock Creek scored the first 6 points of the game and shot 55% from the floor and never trailed all night.
The Mustangs led 18-13 at the end of the 1st quarter, 28-19 at halftime and 40-33 after 3 quarters.  Rock Creek biggest lead came at 28-15 with 2:01 to play in the 2nd quarter.  The Cowboys would continue to chip away and pulled to within 45-44 with 4:36 to play in the game, with a three-pointer by Senior, Grant Waite.  The Mustangs would then answer as they did all night with 4 straight free-throws.
Abilene struggled shooting in the loss.  The Cowboys were 19-54 35% from the floor, 4-23 17% on three-pointers and 8-13 62% at the foul line but were just  3-8 at the line in the first half.  Abilene was also out rebounded 31-24.  They did force the Mustangs into 23 turnovers while just turning it over themselves 11 times.  Abilene was led in scoring by Junior, Stocton Timbrook, who finished with 13 points.  Waite and Sophomore, Tyler Holloway, each finished with 10 points in the loss.
The Cowboys finished the season 11-10.  It was the final game for 3 Seniors, Ayden Taylor, Grant Waite and Triston Cottone.  The Abilene Cowgirls will open Sub-State play at Wellington tonight at 6 PM.  Abilene is 2-17, while Wellington is the top-seed in the 4A West Standings with a 19-1 record.