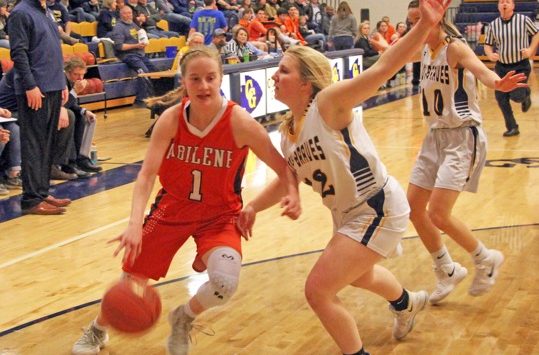 The Abilene High School basketball teams split at Council Grove Tuesday night.  The Cowgirls suffered their second straight close loss in a 42-35 setback to the Lady Braves.  The Cowboy's 30 point lead in the third quarter was too much for Council Grove to overcome in Abilene's 65-54 victory.
The Cowgirls got off to a quick start, thanks in part to the play of Senior, Beth Holmes.  Holmes scored 10 of her game-high 19 points in the opening quarter.  Her play helped Abilene build a 14-9 lead at the end of the first quarter.  The Cowgirl offense slowed down in the second quarter but they still took a 20-18 lead into halftime.  Abilene then only managed 3 points in the third quarter and it allowed Council Grove to take control of the game.  Paisli Butler gave the Lady Braves the lead for good on a bucket to make the score 25-23 with around 5:00 minutes to play in the third quarter.  It was part of a 7-0 Council Grove run to close the quarter and give them a 28-23 lead as they entered the fourth.  They would lead by as many as 7 points on multiple occasions in the final quarter including the final score.
The last time the Cowboys played at Council Grove they let a double digit lead slip away in a 61-57 loss back in 2018.  Late in the third quarter it appeared there was no chance of that happening again.  Abilene used a 21-0 run to take a 56-26 lead with 39 seconds left in the third quarter.  Council Grove scored the final 5 points of the quarter and backed that up with the first 16 points of the fourth quarter to put together a 21-0 run of their own to cut the deficit to 56-47 with 3:09 to play.  It was too little too late though as the Cowboys would hold them off not allowing the Braves to get any closer.
Abilene was led in scoring by Travis Beetch who finished with 19 points, Kaleb Becker added 18 and Josh Stuber poured in a career-high 15 points.  Abilene will return home Friday against Wamego.