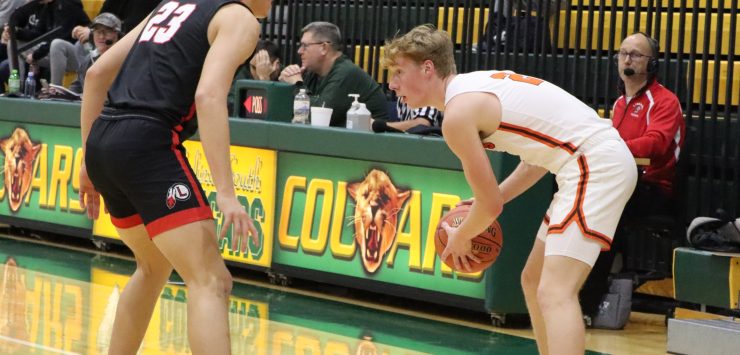 pictured is Grant Waite, picture courtesy of Brad Anderson
(2) Andover 55  (7) Abilene Cowgirls 25
SALINA – The Andover Lady Trojans cruised into the semifinals Thursday afternoon, at Salina South High School, in the opening round of the S.I.T.  They led by as many as 33 points and there was a running clock in the 4th quarter.  Andover, who doesn't have a single Senior on their roster, improved to 9-1 with the victory under first year Head Coach, Hannah Alexander.
The Lady Trojans led 20-11 at the end of the 1st, 32-16 at halftime and 49-18 after 3 quarters.  Andover was led in scoring by 5'8" Junior, Brooke Walker, who finished with a game-high 15 points.  The Cowgirls were led by Junior, Claira Dannefer, who finished with a team-high 7 points.
Andover improved to 9-1 with the victory and will face (6) Salina South in the semifinals, at 3 PM, today (Friday), at KWU.  Salina South defeated (3) Highland Park 50-47 in overtime. Abilene will play Highland Park, at 6 PM, at Salina Central.
(3) Abilene Cowboys 64  (6) Liberal 42
SALINA – The Abilene Cowboys continued their mastery of Liberal at the S.I.T, at Salina South High School, Thursday night. Abilene is now 5-0 against Liberal at the tournament and 5-1 all-time with records that date back to the mid-60s.
The Cowboys got a career-night from 6'2" Junior, Brax Fisher.  He returned from injury on January 6, in a loss to Marysville.  Fisher has steadily improved each game and erupted for a career-high 24 points.  His previous career-high was 12 points.
Abilene led by as many as 23 in the second half and pulled away in the win.  The Cowboys led 21-8 after the 1st quarter, 29-21 at halftime and 43-30 after three quarters.  Abilene also got double-figures from Tristin Cottone 15 and Stocton Timbrook 13 in the victory.  Liberal was led by Chris Robledo, who finished with 17 points.
The Cowboys have won three straight games and are now 7-4.  They will face (2) Blue Valley Southwest, at 4:30, at KWU.  The 5A Timberwolves defeated (7) Salina South 58-40.