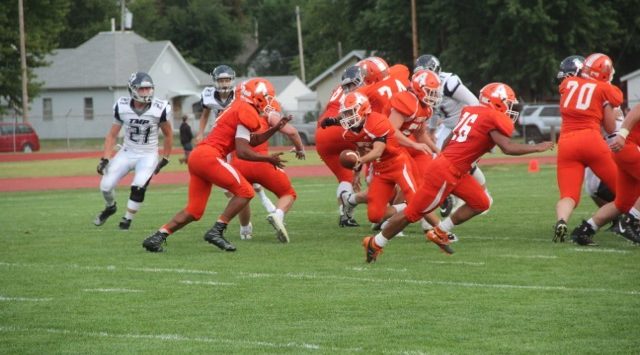 The Abilene Cowboys will look to rebound after a injury plagued 2-7, 2017 campaign. Abilene suffered their first losing season under Steve Simpson and missed the playoffs for the first time in three seasons.  Simpson was 20-8 and a remarkable 15-0 against the NCKL in his previous three years prior to last season.  The culprit was a small Senior class and the inability to keep them healthy.  Abilene went 7-3 in 2016 but graduated 18 Seniors.  The Cowboys had only nine Seniors last year.  One of those Seniors who went down was two-time state wrestling champ Trey Hoerner, who played running back and linebacker. He went down in week two last season in a loss at Marysville and would miss all but one remaining game.  That game was a  28-27 OT loss at Wamego. In the remaining contests that he didn't play after week two the Cowboys were outscored 223-78.
Numbers wise, things should be different in 2018.  Abilene was able to get a lot of players playing time a season ago.  The Cowboys had 18 Juniors last year and enter the preseason with 20+ Seniors on the roster.  Abilene returns 5'8"  155 Junior, Jackson Randals, who made one start at quarterback last year.  Randals threw for 190 yards and a touchdown in two appearances last season. The Cowboys also return one of the most explosive players in the NCKL in James Mayden.  The versatile 5'10" 180 Senior could see both time at quarterback and tailback next season.  Mayden ran for 541 yards and three touchdowns, had 313 receiving yards and a score, and also threw a touchdown.  Whoever is at quarterback this season, they will have a huge target to throw to in 6'5" 225 Senior Preston Boyd.  Boyd hauled in 17 receptions for 248 yards and a touchdown last season.
One of the other top story lines for Abilene entering the season has nothing to do with personnel. KSHAA changed the classifications for football and there will no longer be divisions in Class 4A. This season Class 4A has gone from 64 teams to 32 teams.  The Cowboys are the only NCKL team in class 4A which caused scheduling issues for Abilene.  The rest of the league is in class 3A and will start district play by week four.  Abilene was able to maintain rivalry games with Clay Center, Concordia and Chapman in the first three weeks of the season and have added Pittsburg-Colgan, Augusta and Ulysses to the schedule.  McPherson remains on the schedule in week four.  The Cowboys have played the Bullpups the last several years in district.  District play is now gone in Class 4A.  Every team will enter the playoffs in week nine, like in Class 5A and 6A.  Abilene will be in the West with Andover Central, Arkansas City, Augusta, Buhler, Circle, Coffeyville, El Dorado, Goddard, Independence, McPherson, Mulvane, Rose Hill, Ulysses, Wellington and Winfield.  The teams will be seeded 1-16.
Despite a tough 2017 optimism is high in Abilene.  Coach Simpson said that workout attendance during the summer was as good as any year he's been in Abilene.  The Cowboys get a chance for redemption immediately in a trip to Clay Center on August 31st.  The Tigers defeated the Cowboys 48-6 last season.