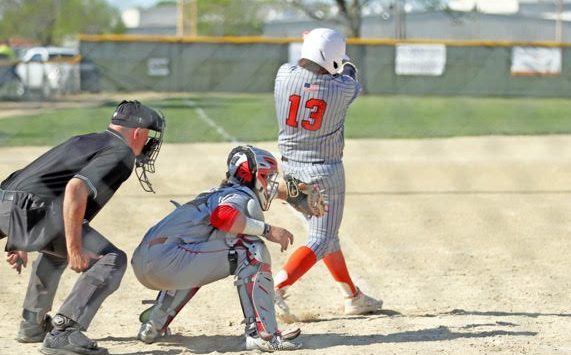 Game 1  Wamego 7  Abilene 6
The Abilene Cowboys comeback effort fell short Friday night at Ted Power Field in Abilene.  Wamego used a big first inning to fuel their victory.  The Red Raiders scored 5 in the first inning and would go on to add a run in both the 2nd and 3rd inning.
Senior, Ryan Erickson went the distance for Wamego in the victory.  He retired the first 6 batters he faced through 2 innings.  Abilene finally got on base, against him, in the bottom of the 3rd inning.  Senior, Michael McClanahan led off the inning with a double.  He would later score on a R.B.I. single by his brother Chris.
The Cowboys then broke through in the bottom of the 4th with 5 runs.  Junior, Carter Taplin singled and scored on a double to center field by Freshman, Stocton Timbrook.  Freshman, Kyson Becker would then reach on an error that led to a Timbrook score.  Freshman, Zach Miller would then drive in Becker with a double to left field.  The final score came from Michael McClanahan, who scored on an error, to make the score 7-6.  Wamego committed 3 errors in the inning.
Neither team would score over the final three innings.  Senior, Kaden Coup pitched 3 shut-out innings while Erickson regained his command and didn't give up any more hits.
Game 2  Abilene 14  Wamego 3 (5 innings)
The Cowboys exploded for 14 runs in the second game.  With the victory Abilene kept their NCKL Title hopes alive.  The Cowboys improved to 10-8, 6-1, while Wamego fell to 11-7, 6-1.  Abilene will travel to Clay Center next Friday and have an opportunity to play for the NCKL Championship.  The Tigers were idle Friday and are 11-3, 5-1.  Abilene has only one league title in its program's history and that was in 2017.