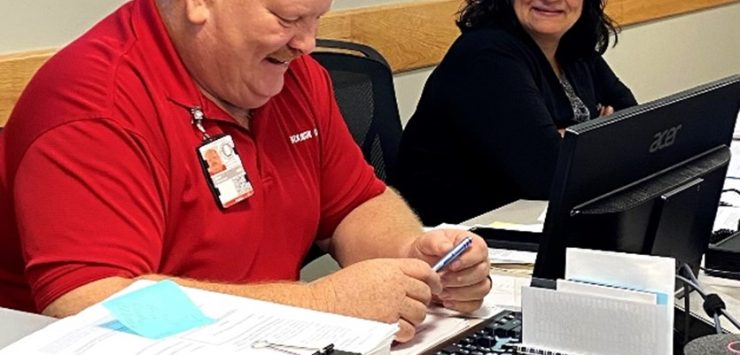 County Administrator Homman to retire in December
After 40 years with Dickinson County — 16 of those serving as county administrator — Brad Homman will retire later this year.
Homman's last day with Dickinson County will be Dec. 17, 2022.
Commission Chairman Lynn Peterson said he knew Homman would retire eventually but was somewhat surprised it would happen this soon.
"Brad's an outstanding county administrator. He tells it like it is, he's a straight shooter, he gets a lot of things accomplished and does it in a very professional way," Peterson said.
"One of the things I noticed immediately when I joined the county commission and went to state meetings was how often they would direct a question to Brad to answer. He is held in high regard throughout the state as a 'go to' person for surrounding counties and other counties."
"I always like to think a person should want to leave things better than the way they found them and Brad definitely did that," Peterson added. "He has continued to move us forward in a positive way."
As for a successor, Peterson said the commission would decide how to proceed.
"We have always tried to place emphasis on succession planning," Peterson said. "I'm looking forward to having some of those conversations with Brad and the other commissioners in the immediate future."
Homman, a lifelong Solomon resident, spent much of his Dickinson County career working in law enforcement, starting as a part-time jailer and dispatcher in 1982 for the sheriff's department. On Jan. 12, 1985, he joined the sheriff's office full time as a deputy following the election of Sheriff Steve Britt.
Over the years, Homman held a number of key positions with Dickinson County, including creating the county's drug task force which eventually became the I-135/I-70 Drug Task Force. He also was Dickinson County's first 911 Dispatch Center director and was the person responsible for setting up, building and staffing the county's emergency communications center. In 2006, then-county commissioners felt the county needed to be run "more like a business" and named him director of the Department of Administration. Soon after, commissioners changed the title to county administrator. During his tenure as administrator, Homman oversaw the creation of the countywide Emergency Medical Service, which involved moving ambulance services out of the two county hospitals and under the county umbrella; was in charge of the recent jail addition/courthouse renovation project; and led numerous other projects and initiatives. Commissioner Craig Chamberlin said Homman's knowledge about county government is outstanding.
"He's been in it more than 38 years, starting in the sheriff's office, then to 911 and went on to become county administrator," Chamberlin said. "Brad's leadership through the pandemic, jail project and courthouse renovation has been outstanding. We couldn't have asked for anymore. He went above and beyond the job we tasked him with." More information about Homman's retirement and time with Dickinson County will be released at a later date.