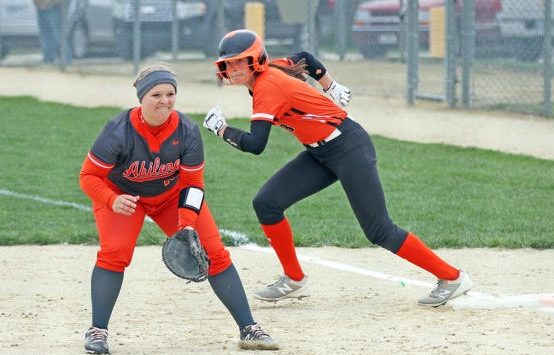 Game 1  Clay Center 8  Abilene 0
The Clay Center Lady Tigers got another solid pitching performance from Senior, Clara Edwards in their victory over Abilene.  Edwards improved to 6-0 with the win and hasn't allowed an earned run this season.  She struck out 13 batters in the win and surrendered just two hits in the victory, both were by Jenna Hayes.  Abilene Senior, Brynna Ade pitched a complete game and took the loss.
Clay Center's offense gave Edwards the support she needed in the victory.  The Lady Tigers capitalized on Abilene's fielding mistakes.  The Cowgirls committed 5 errors in the loss.  Clay Center scored 2 runs in the first, second and third innings.  The added a run in both the 4th and 6th inning.  The Lady Tigers were led by Jacey Schurle, she finished 3 for 4 with 2 runs scored and A RBI.  Schurle entered the game with a team-high .577 batting average.
Game 2  Clay Center  12  Abilene 2  (6 innings)
After not committing a single error in the first game, the Lady Tigers committed 3 errors in the first inning which resulted in 2 Abilene runs.  Emma Wildman reached on a single and later scored on an error.  Hayes reached on an error and later scored on a wild pitch.
Clay Center would quickly retake the lead in the bottom of the 1st on a 2 RBI double by Dani Carson that drove in Edwards and McKenzie Weller.  Carson would then be drove in by Shelby Siebold and the Lady Tigers would not trail the rest of the game.
Clay Center broke the game open in the 3rd inning.  The Lady Tigers scored 7 runs in the inning and took a 10-2 lead into the 4th.  Freshman Kalli Pedigo drove in Ella Girton in the bottom of the 6th to end the game.
Ashton Roth took the loss for Abilene.  Katie Spielman went the distance for the victory for Clay Center and improved to 4-0 on the season.  Clay Center improved to 10-0, 6-0 while the Cowgirls fell to 2-10, 2-2.
Clay Center will host Sacred Heart on Friday.  Abilene will play Tuesday at Concordia.  The next broadcast on AM 1560 KABI will be Game 1 of the baseball double-header Tuesday at Concordia, with the pregame starting at 4:15.