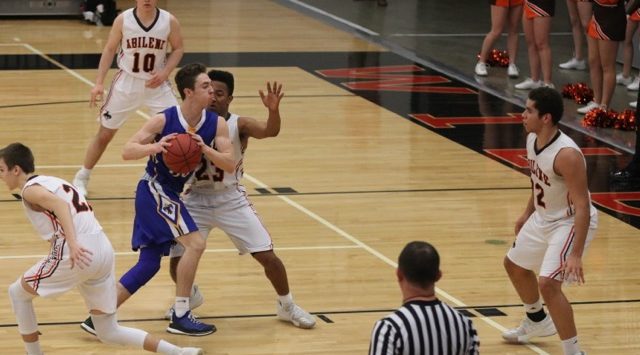 The Abilene Cowboys season came to a shocking end Friday night in El Dorado in a 55-53 loss to Circle.  Abilene led by as many as 17 points in the game and 15 points at halftime but were outscored 40-23 in the second half.  Circle got a game winning shot, from Jude Warren, with 3.2 seconds left to win the game. The winning basket gave the Thunderbirds their first lead of the game. Warren, finished the night with 20 points and scored all of  his points in the second half.
Abilene, who hadn't played since February 16th, didn't show any signs of rust as they scored the first 10 points of the game and would lead 17-9 at the end of the first quarter. The Cowboys a 11-0 run in the second quarter to take their biggest lead of the game at 28-11, on a James Mayden basket, with 2:28 to play in the half. Abilene would lead 30-15 at the half and once again to a 17 point lead on Noah Wildman's opening basket of the second half.  That's when the game turned.
Circle, outscored the Cowboys 22-11 in the third quarter.  The Thunderbirds entered the game as a perimeter team, they have no starter taller that 6'1".  They hit only one three pointer in the first half but sank four in the third quarter and six in the second half.  Dylan Meier's three, at the buzzer, to end the third, cut Abilene's lead to 41-37.
Things started off well for the Cowboys in the fourth quarter.  They went on a 6-0 run to take a 47-37 lead with 6:22 to play on a pair of free throws by Tim Barbieri.  Circle countered with a 10-2 run to pull to within 49-47 with 4:28 to play on a bucket by Warren.  It would be tight the rest of the way and the Thunderbirds closed on a 6-0 run to win the game.  Abilene turned over the ball on their next to last possession with a minute to plays and Circle held the ball for the final shot.  Warren connected on an elbow, fadeaway jumper to win it for his team.
The Cowboys ended the year at 13-7.  Circle, the #3 seed, improved to 8-13 with the victory and will play Wamego in the championship game Saturday night at 7:30.  The top-seeded, Red Raiders, defeated El Dorado 51-45.  The First National Bank of Hope Players of the Game for Abilene, were  Seniors, Noah Wildman, Tucker Robinson and Parker Gentry. Wildman led Abilene in scoring with 14 points.  The three seniors had successful careers and were big contributors on last year's 4A Division I, 3rd Place State Team.