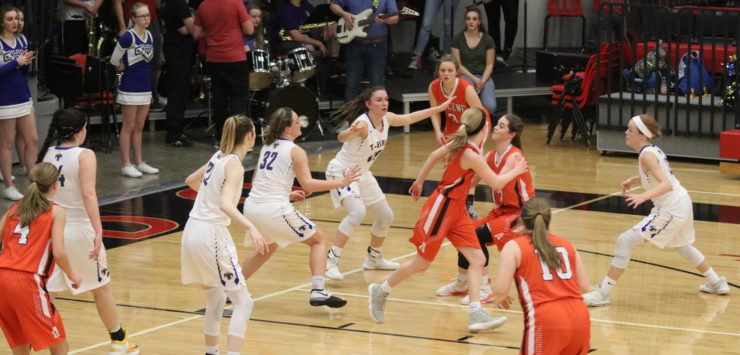 The Abilene Cowgirls had their season come to an end Saturday night, in the El Dorado Sub-State final, in a 46-31 loss to Circle.  The game was much closer than the final score indicated.  The Lady Thunderbirds pulled away in the fourth quarter at the free throw line.  Circle connected on 13-15 free throws in the final period.  Circle improved to 18-4 and returned to state for a second straight season.  Last year the Lady Thunderbirds finished 4th in 4A Division I.  Abilene ended the season at 13-8.
The Cowgirls got off to a quick start in the game as they scored the first seven points on their way to a 12-7 lead at the end of the first quarter.  Abilene has had trouble at times with scoring droughts, and it occurred in the second quarter, as they managed just two points, but the Cowgirls would only trail 16-14 at the half.  Abilene had trouble scoring all night against Circle's size.  The Lady Thunderbirds have three six foot players on their roster and all three were on the floor at the same time during one stretch in the second half.  Abilene has only player above 5'7" that plays significant minutes.  The Cowgirls were held to seven points in the third quarter but still only trailed 28-21 as they entered the final quarter.
Abilene was led on the night by Juniors, Hannah Willey and Sydney Burton, who both scored 7 points on the night.  The First National Bank of Hope Players of the Game were Seniors Emma Bathurst and Jensen Roth, who provided tremendous leadership throughout the season.