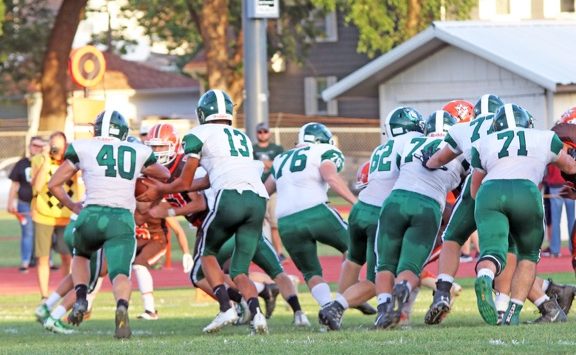 The Chapman Irish moved to 3-0 for the first time since 2006 with a 26-0 victory at Abilene Friday night.  It was Chapman's first win over their rival since 2012.  Chapman got a huge night out of 5'11" 200 Senior Fullback Dalton Harvey.  He carried the ball 33 times for 203 yards and two touchdowns.  The Irish would also get a big night from 6'5" 180 Senior Quarterback Izek Jackson.  He ran for 110 yards on 15 carries and scored a touchdown on the ground and through the air.
Jackson had not had to throw much in Chapman's first two wins but went to the air to Brandon Colton on 4th and 10 at the Abilene 16 yard line on the first possession of the game for either team, to put the Irish up 6-0 with 7:58 to go in the first.
Jackson would then cap a 99 yard drive for Chapman on their third possession with a one yard run.  Harvey would add the two point conversion to put the Irish up 14-0 and that would be the same score at the half.
In the second half the Irish would go to Harvey early and often.  He would score their final two touchdowns of the game.  The Senior Fullback would score on a 17 yard run to push the lead to 20-0 with 8:16 to play in the third quarter.  His final touchdown would come on a nine yard run with 10:01 to play in the game.
Chapman totaled unofficially 407 yards of total offense, with 381 of it coming on the ground.  The Irish defense did their part as they limited Abilene to 160 yards of offense.
Chapman will face Clay Center next Friday.  The Tigers lost 43-6 at Wamego and fell to 0-3 on the season.  Abilene now 1-2 on the season will travel to McPherson to play the state ranked Bullpups.