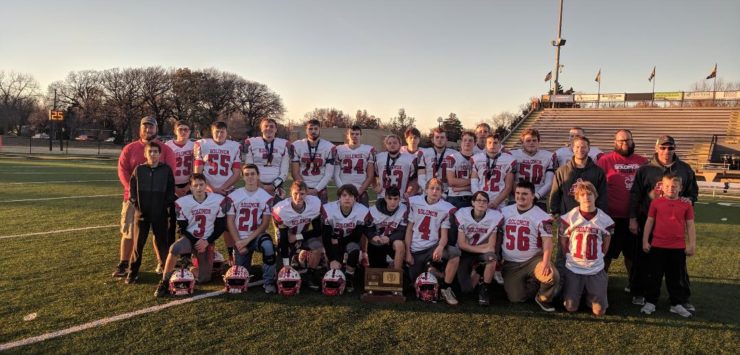 The Solomon Gorillas season came to an end Saturday afternoon at Newton's Fischer Field in a 52-6 lost to Central Plains in the 8-Man Division I State Championship Game.  The Oilers defense was billed as one of the best of all time in 8-Man and it didn't disappoint.  Central Plains didn't allow a first down and held Solomon to unofficially -15 yards of total offense in the game.  The Gorillas only points came on a Alex Herbel 65 yard kickoff return with 11:35 to play in the first half.  The Oilers mercy-ruled Solomon with 10:24 to play in the third quarter as Senior, Jerred Bieberle fittingly ended the game on a pick-6 to give Central Plains a 46 point lead.
The Oilers lead 16-0 at the end of the first quarter and 40-6 at halftime.  They got a big game from their 6'4" 202 Senior Quarterback, Myles Menges, who threw for 126 yards and two touchdowns and also ran for a score.  He connected on touchdown throws of 43 yards to Senior, Grant Heldstab and 39 yards to Junior, Lawson Oeser who also scored on a 3 yard run in the game.  The Oilers were led by Senior, Alex Hickel, who had 7 carries for 76 yards and scored on runs of 11 and 52 yards.
Central Plains finished the season 13-0 and only allowed a remarkable 34 points for the entire season. The Oilers captured their second state title in school history.  Their previous title came in 2014.  Central Plains is a consolidated school made up of Claflin and Bushton Quivira Heights.  Those two schools had 15 total title game appearances and 6 championships between them.
Solomon ended the season at 11-2 but put together a remarkable run that produced the most wins in school history and their first championship game appearance.  It was the final game for Seniors – Braden Neilson, Tyler Marries, Logan Krause, Eli Basvic, Shane Garman and Jobe Fowles.