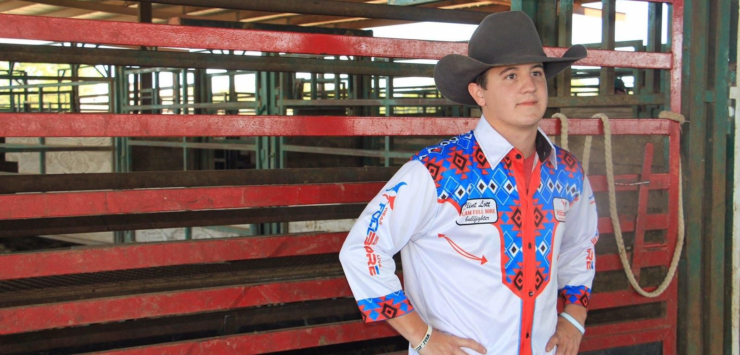 New bullfighter in Abilene to work rodeo alongside mentor
A new face will be part of the action at the 74th annual Wild Bill Hickok Rodeo in Abilene.  
Clint Lott, Waco, Texas, will work the rodeo as a bullfighter. He replaces Abilene native Ethan McDonald, who has retired from bullfighting. Lott, who is 25 years old, was riding calves by the time he was five. At the age of twelve, he rode junior bulls, but then his focus shifted to football and baseball. When he was seventeen, Lott began bull riding again. But it didn't click for him. "I wasn't very good at it," he said. "I couldn't put it together consistently to make a living at it."  
So he decided to try another route. His dad Craig Lott, had been a bullfighter from the late 1970s through the 1990s, so Clint decided to try that. He called an acquaintance of his: Blake Miller, who is the other bullfighter in Abilene. Miller, who was already a PRCA member, took Lott under his wing and taught him the ins and outs of bullfighting. Two years ago, Lott got his PRCA card. He's worked rodeos across Texas and now will work Abilene, alongside his mentor, Miller. Miller, who is younger than Lott, "is like a 'little' big brother to me," Lott said. "He's about as close as we can get without being blood-related."  In his spare time, Lott likes to fish and work out. He also loves dogs and has three of them: Bentley, a blue heeler, Stetson, a Corgi-heeler mix, and Sadie, a blue heeler-border collie mix. He owns cattle in partnership with his dad, and someday would like to own bucking bulls. Lott looks forward to working the Wild Bill Hickok Rodeo. "I'm pretty excited for it."
Action at the Wild Bill Hickok Rodeo kicks off July 31 and runs through August 3, at 7:30 pm each night. Tickets are available at West's Country Mart, at the fairgrounds, and online at www.ckff.net. For more information, visit the rodeo's website at www.WildBillHickokRodeo.com.