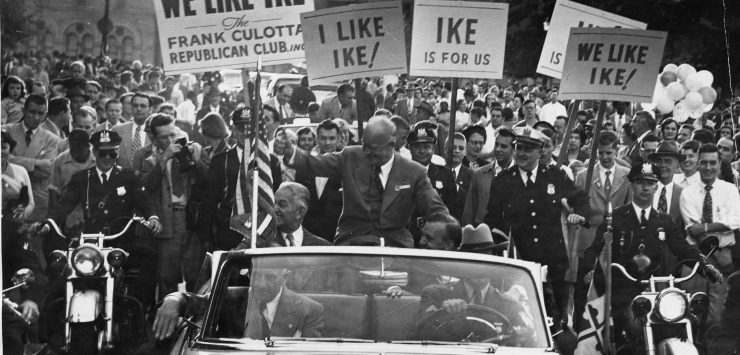 When President Dwight Eisenhower ran for a second term in office, his health was a concern. Was he healthy enough to run again, and if he won was he health enough to do the job?
The public is invited to attend the August Lunch & Learn scheduled for Thursday, August 24, at noon central time either in person or online. The program will be held in the Eisenhower library building indoor courtyard and will begin promptly at noon. Guests are encouraged to arrive by 11:45 a.m. A light box-lunch will be served on a first come, first served basis.
According to the agency, guest speaker Dr. James Young, will be in person for this discussion about President Eisenhower's decision to run for a second term. The health of our President is a very important issue for most citizens. Often, significant disease and debilitation were hidden from public attention. Examples include Woodrow Wilson's debilitating stroke toward the end of his second term and FDR's use of a wheelchair. A prominent outlier was 65-year-old Dwight D. Eisenhower who suffered a large myocardial infarction, or bheart attack, while on vacation in Denver. Press Secretary Hagerty asked what to tell the public, and Eisenhower replied, basically, "everything." Dr. Young will not only share Eisenhower's medical history and care, but also how that information weighed into the difficult decision Ike had to make – should he run for a second term.
Dr. Young is the Emeritus Executive Director of Academic Affairs at the Cleveland Clinic in Cleveland, Ohio. He is a co-founder of the Kaufman Center for Heart Failure, served as Study Chairman of the NIH, FDA, and CMS Interagency Registry for Mechanically Assisted Circulatory Support (INTERMACS). Dr. Young's professional focus has been on the fields of heart failure, heart transplant, donor organ procurement, and mechanical circulatory support. Dr. Young currently is interested in Presidential health, particularly cardiovascular disease, and its impact on White House decision making.
Library building indoor courtyard Arrive by 11:45 a.m.
Box lunch provided on a first come, first served basis
Park in the south parking lot nearest the library building