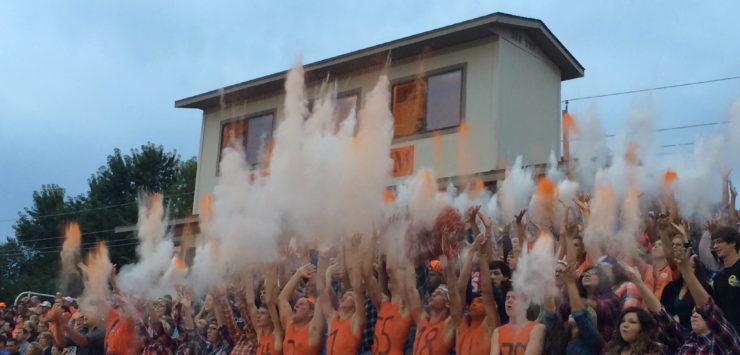 The 2017 Abilene Cowboy Football team is hitting the field with many new faces in starting positions , hungry to repeat as NCKL champions and hope to make a further run into State Playoffs. The Abilene Cowboy football team stumbled down the stretch with three straight losses to end last season, after a 7-0 start. However, Abilene did make the playoffs for a second straight year under Steve Simpson, but were defeated by Buhler 45-13, the eventual State runner up in 4A Division 1.
Abilene graduated 18 seniors off of last year's team including their leading passer, receiver and rusher.  It's a senior class that won't easily be replaced as the group excelled in all sports as the wrestling team won the state title while the boy's basketball team finished 3rd at state.  However, there are several players with talent ready to step up. The front-runner for the quarterback position this season will be Senior, Trevor Casteel.  Casteel was 21-41 for 338 yards and an interception last year.  He has one career start and it was last year at Hays in week 8, due to an injury to then starter Ryan Wilson.
The Cowboys will also look for Senior running backs Dominick Campbell and Trey Hoerner to step up this season.  Campbell was a state qualifier in track last spring and he brings big play ability to the football field as he has averaged over 8 yards per carry last season. Campbell totaled 346 yards on 43 carries last fall.  Hoerner, who won an individual state title at 182 pounds in wrestling last winter, brings power to the running game. Hoerner can be explosive though too, as he had a 67 yard touchdown run against Wamego last year.
Abilene will return talent up front also with 6'4, 260 pound Senior Tucker Robinson.  Robinson, who plays defensive end, was named to the All-NCKL defensive team last year.  He also plays tight end for the Cowboys and looks to be a big target in the passing game.  He was named to the 4A Division I All-State Tournament Team in basketball last winter.
Coach Simpson has owned the NCKL  in his three years as head coach of the Cowboys with a 15-0 record.  Abilene will be challenged by Marysville again this season. Abilene defeated Maryville last year 14-12 in Abilene.  It was the only league loss for the Bulldogs last season.  Marysville finished 7-3 and lost to Norton in the first round of the playoffs.
Abilene will have the same district as last year as the Cowboys will travel to Wamego on October 13, host Hays on October 20,and end the regular season at McPherson on October 27.  Abilene went 1-2 in the district last year with their lone victory over Wamego, but the Cowboys still made the playoffs as a runner-up.
Abilene will open the season at home on September 1 against Thomas-More Prep Hays, but then the Cowboys will have three straight road games before ending the month at home against Concordia.
2017 Abilene Cowboy Football Schedule
Sept. 1 TMP
Sept. 8 at Marysville
Sept. 15 at Andover Central
Sept. 22 at Chapman
Sept. 29 Concordia
Oct. 6 Clay Center
Oct. 13 at Wamego
Oct. 20 Hays
Oct. 27 at McPherson