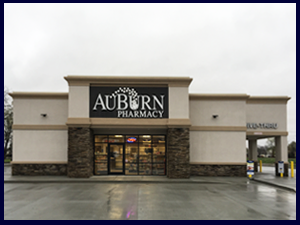 AuBurn Pharmacy now open at their new location.
AuBurn Pharmacy recently finished construction on a new pharmacy and are open for business at 1518 N. Buckeye!
Abilene, KS, June 12, 2019. – AuBurn Pharmacy, based in Garnett, KS, has officially begun offering pharmacy services to the community of Abilene and the surrounding area at their new location, 1518 N. Buckeye. "We are extremely excited to open our new location. Because the community of Abilene has supported AuBurn Pharmacy it has enabled us to take this next step in investing back into the community. The new location allows us to continue to bring additional pharmacy services and cost saving programs to patients making it more convenient and cost effective to shop locally." said Michael Burns RPh, owner of AuBurn Pharmacy. With combining what was two AuBurn pharmacy locations, patients will continue to see the same friendly faces that currently serve them all under one roof. "Even though one of the old locations on Buckeye has now been closed, we made the decision to keep the Broadway location open through summer to make the transition for our downtown customers easier," said Mr. Burns. Lamenting that it was a delicate decision to build the new pharmacy knowing that eventually the historic downtown location would have to be closed, Mr. Burns said that the new store décor pays homage not only to that location but also the history of Abilene. "We decided that the long tradition of the Bankes Family running and owning Bankes Pharmacy should be recognized as well as it being on Broadway for so many years. So with the help of Bud and Linda Bankes' granddaughter, Mitzi Gose, we gathered many old photos of the pharmacy, Bud and his father. Additionally, we gathered as many historic photos of Abilene as we could fit and commissioned a custom wallpaper border to put inside the pharmacy." And as for the Neon sign that hung outside the location? "It has only disappeared from the building because it is being restored," Mr. Burns said, "Customers will also find it part of the new pharmacy décor. " The new AuBurn Pharmacy location will continue to offer all the services and programs currently available, will be open 7 days a week, has a convenient drive-thru and Patient Engagement Center, Also a large digital sign to keep patients informed of specials, events and other health information. A Grand Opening celebration is scheduled for later this summer.