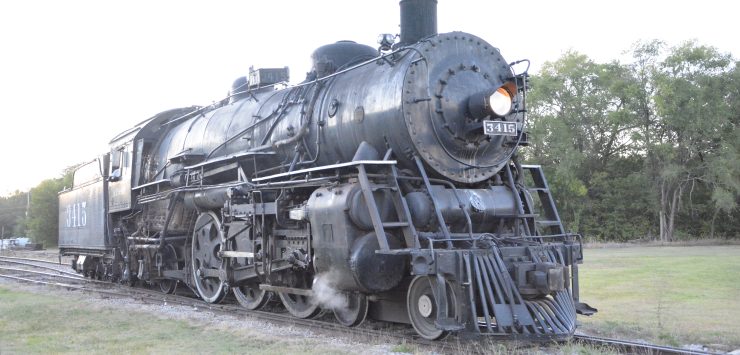 ABILENE AND SMOKY VALLEY RAILROAD STORES 13 PASSENGER CARS IN ABILENE AND ENTERPRISE
The Abilene and Smoky Valley Railroad has cleared its sidings in the rail yards at Abilene and Enterprise this week to make way for some very special guests: 13 passenger cars that formerly belonged to the Utah Transit Company that are being stored on A&SV sidetracks for an indefinite period of time.
"Car storage is a common revenue source for railroads," explained A&SV President and General Manager Ross Boelling. "We happen to have plenty of siding space at both of our terminals, and we think the streamliner vehicles nicely dress up our property."
The cars were shipped to Abilene via the Burlington Northern Santa Fe as a "unit train," a railroad term for special trains that carry only one type of cargo, which, in this case is used passenger cars. Boelling said the train left Salt Lake City on the evening of August 31, arriving in Abilene at 12:30 a.m. Monday.
A&SV crews spent their Labor Day holiday distributing the coaches, seven cars for sidings in Abilene, and six to the Enterprise yard.
Boelling said the BNSF train brought the cars into Abilene via the Strong City subdivision, delivering the passenger coaches as one long train. The A&SV crew split up the cars and delivered them cars to their storage destinations.
"We wonder how long it has been since a passenger train passed on the BNSF rails between here and Strong City," mused Boelling. "These cars once ran on Amtrack's high speed corridor on the east coast, so they're used to moving at a fast clip. But we toned the speed down to 10 miles per hour today."
Boelling said he does not know the eventual destination for the cars or exactly how long they will be parked in Dickinson County, although he estimated the storage period to be up to a year.