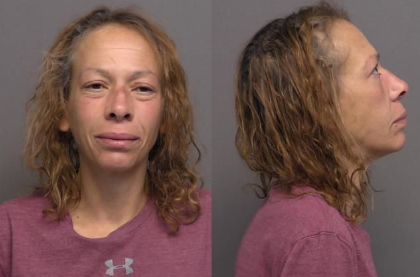 A 50-year-old Abilene woman was arrested after a vehicle and other items taken from a north Salina residence were found with her at a vacant house in another part of town. Salina Police officers were called to a residence in the 300 block of Forest Avenue on Wednesday for the report of a burglary the day before. The front door was damaged and multiple items were taken from the residence, including a 1999 Dodge Dakota pickup valued at $3,900, Then, at 10:20 p.m. Wednesday, officers were sent to the 1100 block of S. Marymount Road for the report of a person who was in a vacant house. The officers made contact with the person, identified as Chante Rosalez of Abilene, and convinced her to come out of the house. The Dakota was found in the garage and a firearm and miscellaneous items taken from the Forest Avenue residence were found inside the house. Additionally, police found illegal drugs while securing the property. Rosalez was taken to the Salina Police Department for questioning and was then arrested on the following requested charges,
Criminal possession of a firearm by a convicted felon
Possession of methamphetamine
Possession of marijuana
Criminal damage to property
Criminal trespass
The vehicle and other items were returned to the owner.