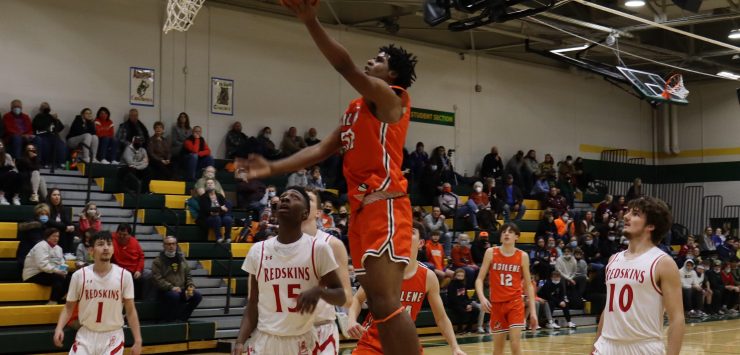 Abilene Cowgirls 54 Wichita West 31
Salina – Wichita West proved for a second straight season to be the perfect medicine for the Abilene Cowgirls.  Abilene entered the game with a 1-9 record and left Salina South High School with a 54-31 victory.  The win snapped a 7-game losing streak for the Cowgirls.
Abilene led 13-10 at the end of the 1st quarter but took control of the game with a dominant 2nd quarter.  Abilene committed 27 turnovers in their 67-34 loss to Salina Central on Thursday.  The Cowgirls had 0 turnovers in the 2nd quarter Friday night and outscored the Lady Pioneers 23-6 in the quarter to take 36-16 lead to halftime.  Abilene went on to lead 47-24 after three quarters and got up by as many as 26 points in the quarter.
The Cowgirls got a huge night from Sophomore, Claira Dannefer, she poured in a career and game-high 21 points in the victory.  She was the Nex-Tech Wireless Player of the Game.  Abilene will now play Salina South for 5th Place on Saturday at 2 PM at South High School.  The Lady Cougars defeated Buhler 41-21 on Friday.
Abilene Cowboys 75 Liberal 48
Salina – The question entering Friday's game for Abilene is whether they could put Thursday's heart-breaking 55-53 loss to Salina Central behind them.  The Cowboys answered it early with an 8-0 run to start the game on their way to a 75-48 victory.  Abilene got up by as many as 30 points late in the contest which resulted in a running clock over the final 3 minutes in the game.  The Cowboys, with the win, moved to 4-0 all time vs Liberal at the S.I.T.
Abilene led 17-8 at the end of the 1st quarter and 36-27 at halftime.  The Cowboys took control of the game in the 3rd quarter.  They outscored Liberal 23-8 in the quarter and used a 13-0 run to put the game away.  Thomas McClendon capped the run with a bucket to give Abilene a 51-31 lead with 2:41 to play in the 3rd.  McClendon, A Sophomore, had a huge second half.  He scored 14 of his career-high 18 points over the last 2 quarters.  Abilene was led on the night by Kaleb Becker, who finished with 21 points.  The 3rd highest point total of his career.  McClendon and Becker were the Nex-Tech Wireless Players of the Game
The Cowboys improved to 8-3 with the victory, while Liberal dropped to 2-8.   Abilene will play Salina South Saturday at 3:30 PM at Salina South High School.  The Cougars defeated Concordia 56-44 Friday night.